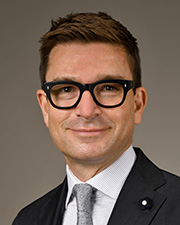 Gustavo S. Oderich, MD, FACS
Professor, Vascular and Endovascular Surgery
Chief, Vascular and Endovascular Surgery
Director, Advanced Endovascular Aortic Program
Thoracoabdominal aortic aneurysms and dissections
Aortic arch aneurysms and dissections
Pararenal, juxtarenal and complex abdominal aortic aneurysms
Aortoiliac aneurysms
Endovascular aortic repair
Fenestrated and branched endovascular aortic repair
Vascular complications of connective tissue disorders
Mesenteric and renal arterial disease
Median arcuate ligament syndrome (MALS)
Contact
713.486.5100
713.486.5184
713.512.7203 fax
Assistant
Leidy Sanchez
713.486.5161
Biography
Dr. Oderich focuses on the clinical evaluation, open surgical and endovascular treatment of aneurysms, dissections, trauma and aortic pathology involving any segment of the aorta, including the aortoiliac, juxtarenal, pararenal, complex abdominal, thoracoabdominal and aortic arch. He serves as Professor and Chief of Vascular and Endovascular Surgery at McGovern Medical School at UTHealth, and is the Clinical Director for the Advanced Endovascular Aortic Program. Dr. Oderich is a world-renowned authority on innovative minimally invasive endovascular techniques to treat complex aortic aneurysms using fenestrated and branched stent-grafts. He serves as the Global Principal Investigator for the upcoming Cook Zenith Plus and Thoraco Plus trials and Chairs the Society for Vascular Surgery Reporting Standards on endovascular repair of complex aneurysms and the WL Gore Steering Anatomical Committee for the TAMBE (Thoraco-Abdominal Multi-Branch Endoprosthesis) trial.  Dr. Oderich has performed over 5,000 open and endovascular repairs, including >2,000 endovascular aortic repairs (EVARs) and 700 fenestrated-branched endovascular repairs (FEVARs), bringing over two decades of experience from the Mayo Clinic. He was mentored by pioneering surgeon Roy Greenberg at the Cleveland Clinic and continues to evolve on improvements in complex endovascular techniques. He is one of eight surgeons in the United States, and the only surgeon in Houston to have physician sponsored, Federal Drug Administration (FDA) approved access to the entire pipeline of company manufactured Cook fenestrated and branched stent-grafts to treat aortic arch, thoracoabdominal and complex abdominal aortic aneurysms. He is also involved in many industry sponsored device trials with the largest worldwide experience in the Gore TAMBE (ThoracoAbdominal Multi-Branch Endoprosthesis).  Dr. Oderich has also a versatile open surgical and endovascular practice in other areas, including management of carotid, supra-aortic trunk, renal and mesenteric artery diseases. He is also involved in the multidisciplinary care of patients with connective tissue disorders including Marfan's, Loeys-Dietz Syndrome and Vascular Ehlers Danlos Syndrome.
Dr. Oderich served as immediate past Chair of the Vascular and Endovascular Surgery at the Mayo Clinic in Rochester, Minnesota, where he practiced for over two decades and oversaw the efforts of The Mayo Clinic Aortic Center program.  The Aortic Center spearheaded and developed extensive experience with endovascular repair of aortic aneurysms and dissections using such devices, with significant reduction in mortality and morbidity compared to results of open surgical repair. He has joined the University of Texas Health Science Center at Houston in July 2020 and now serves as Professor of Surgery and Chief of Vascular and Endovascular Surgery for the McGovern Medical School, Director of the Aortic Center and Director of the Advanced Endovascular Fellowship Program.
Dr. Oderich is a genuine academic surgeon who has become world renowned for advancements in fenestrated and branched stent-graft technology. He was instrumental in the initial development of physician-modified endovascular grafts (PMEGs), which still are used by many surgeons who do not have access to company manufactured fenestrated and branched stent-grafts. His experience evolved primarily to company manufactured fenestrated and branched stent-grafts, which provide better quality control and more versatility for complex endovascular repair. Dr. Oderich mentored and trained 58 vascular residents and fellows, over 20 research students and hosted over 150 international surgeons who came to the Mayo Clinic to observe his endovascular techniques. He is the Editor of the first edition of the textbook entitled "Endovascular Aortic Repair: Current Techniques of fenestrated, branched and parallel grafts", which is considered the Bible of complex endovascular repair. He is a member of 17 national and international surgical and vascular societies, including the prestigious Society for Vascular Surgery, European Society for Vascular and Endovascular Surgery and American Surgical Association. Dr. Oderich serves as Associate Editor of the Annals of Vascular Surgery and of the Journal of Cardiovascular Surgery and is a full member or ad hoc member of the Editorial Board of 62 medical and surgical journals. He has delivered over 690 lectures and addresses in national and international meetings, including the prestigious Roy Greenberg Lecture at the Society for Vascular Surgery meeting. Dr. Oderich has also lectured as Invited Professor in 30 academic institutions including Harvard, Stanford, UCLA, Federal Drug Administration, Université de Montréal (Montreal, Quebec Canada), University of Bologna (Bologna, Italy), Kings College and Guys Hospital (London, UK) and the Universities of Paris, (Paris, France), Nuremberg (Nuremberg, Germany) and Munich (Munich, Germany). His bibliography is extensive with over 760 publications, including 3 edited books, 301 peer-reviewed articles, 318 abstracts, 127 book chapters and 23 letters and editorials. Some of his landmark publications include the results of the United States Zenith Fenestrated Clinical Trial and the updated outcomes of his physician-sponsored fenestrated-branched stent-graft trial.
Dr. Oderich offers telemedicine appointments, allowing patients to receive consultations and follow-up care from the comfort of their home (no traffic, no partking and no crowds). Undergoing complex endovascular aortic repair can be daunting, but Dr. Oderich wants to assure his commitment to best quality outcomes that can be achieved. His practice philosophy is compassion, excellence and availability. You can learn more about Dr. Oderich listening to the Podcast below. If you send him an email you can be assured you will get a personal response. Contact him if you have questions at gustavo.oderich@uth.tmc.edu or schedule an appointment via email with his assistant or via phone by calling 713.486.5139.
Listen to Dr. Oderich's podcast interview here: https://www.audiblebleeding.com/oderich
Memberships
American College of Surgeons
American Medical Association
American Surgical Association
Association of Academic Surgery
Association of Program Directors in Vascular Surgery
Society for Vascular Surgery
European Society for Vascular Surgery
International Union of Angiology
International Society for Cardiovascular Surgery
Society for Clinical Vascular Surgery
Vascular and Endovascular Surgery Society
Midwestern Vascular Surgical Society
Southern Vascular Surgical Society
Priestley Surgical Society
Mayo Alumni Association
Minnesota Medical Association
Minnesota Surgical Society
Brazilian Society for Vascular Surgery and Angiology
Board certifications
Vascular and Endovascular Surgery – American Board of Surgery
General Surgery – American Board of Surgery
Awards
Who's Who in America, Marquis (2012-2020)
Mayo Clinic Teacher of the Year Award (2018, 2017, 2013 and 2012)
First Place Karmody Poster Competition, Society for Clinical Vascular Surgery (2017)
Magna Cum Laude Award for Digital Poster, RSNA (2015)
VIVA Meeting Plenary Session Winner Circle (2014)
The ReMine Distinguished Lecture, The Priestley Society Meeting (2014)
The Roy Greenberg Distinguished Honorary Lecture, Society for Vascular Surgery (2014)
Peter B Samuel's Award for Best Paper, Society for Clinical Vascular Surgery (2014)
GLOBAL VIVA Career Advancement Award (2014)
First Prize for Poster Presentation, International Society for Vascular Surgery (2013)
Edward Dietrich Award (2013)
First Prize for Clinical Communication, International Union of Angiology (2012)
Honorary Professor, University of Valladolid – Spain (2010)
Distinguished Fellow of the Society for Vascular Surgery (2011)
Servier Traveling Fellowship Award, American Venous Forum (2006)
Mayo Clinic Fellow Teacher of the Year Award, Department of Surgery (2006)
Mayo Clinic Medical School Excellence of Teaching Recognition (2000-2001 and 2003-2004)
Best Paper Presentation, International Union of Angiology, Toulouse – France (2005)
The Jon A. Van Heerden Award for Outstanding Meticulous Patient Care, Mayo Clinic Department of Surgery (2004)
The K. Nygaard Travel Award for Outstanding Basic Science Surgical Research, Mayo Clinic Department of Surgery (2002)
The Outstanding Intern of the Year Award, Mayo Clinic Department of Surgery (2000)
Research Scholarship, Universidade Federal do Rio Grande do Sul (1991-1992)
Research Scholarship, Brazilian National Institute of Health (1992)
Courses, workshops and committee memberships
Mayo Clinic Advanced Endovascular Aortic Workshop, Program Chair (annual, 2010-2019)
Iliac Branch Workshop, Director Mayo Clinic (quarterly, 2016-2019)
Mayo Clinic International Vascular Symposium, Course Director (2015-2020)
Federal Drug Administration Ascending Aortic and Arch Summit, Keynote Speaker (2015)
International Vascular Surgery Summit, Course Director (annual, 2011-2013)
Critical Issues America, Miami Florida, Course Director (2017-to present)
Charring Cross Meeting, London UK, Scientific Committee (annual, 2020)
Paris Vascular Insights, Paris France, Scientific Committee (annual, 2020)
VEITH Meeting, New York NY, Scientific Committee (annual, 2020)
Society for Clinical Vascular Surgery, Program Chair (2015)
Midwestern Vascular Surgery Society, Program Chair (2012)
European Society for Vascular and Endovascular Surgery Mesenteric Disease Guidelines, Writing Committee Member (2017)
Society for Vascular Surgery Reporting Standards on Complex Endovascular Aortic Repair, Chair of Writing Committee (2020)
Society for Vascular Surgery Fenestrated Endovascular Repair Practice Guidelines, Co-Chair of Writing Committee (2021)
Society for Vascular Surgery Chronic Mesenteric Ischemia Practice Guidelines, Member (2020)
Society for Vascular Surgery, Vascular Annual Meeting Scientific Program Member (2020)
Aortic Live, Germany Annual Meeting, Scientific Program Director (2018 to present)
Education
1990 - 1995 Medical Degree

Universidade Federal do Rio Grande do Sul

1996 - 1997 Residency - General Surgery

Universidade Federal do Rio Grande do Sul

1998 Research Fellowship - Vascular Surgery

University of Utah

1999 - 2003 Internship

Surgery-General (Categorical) Internship Program, Mayo School of Graduate Medical Education, Mayo Clinic College of Medicine

2004 Chief Resident

Surgery-General (Categorical) Residency Program, Programs in Rochester, Mayo School of Graduate Medical Education, Mayo Clinic College of Medicine

2005 - 2006 Clinical Fellowship

Vascular Surgery Fellowship Program, Programs in Rochester, Mayo School of Graduate Medical Education, Mayo Clinic College of Medicine

2007 Fellow - Advanced Endovascular Fellowship

Cleveland Clinic Foundation
Areas of Interest
Clinical Interests
Aortic Aneurysms and Dissections, Open surgical and endovascular repair
Aortic Trauma, Open surgical and endovascular repair
Vasculitides (e.g. Takayasu's and Giant Cell Arteritis), Open surgical and endovascular repair
Connective Tissue Disorders (e.g. Marfan, Loyes-Dietz and Vascular Ehlers-Danlos Syndrome)
Open surgical aortic aneurysm repair
Endovascular aortic aneurysm repair
Endovascular reconstructions
Endovascular treatment
Thoracic aortic aneurysm surgery
Thoracic endovascular aneurysm repair
Thoracoabdominal aneurysm surgery, open and endovascular
Thoracoabdominal aortic aneurysm repair, open and endovascular
Type I endoleak
Type II endoleak
Failed endovascular aortic repair
Failed thoracic endovascular aortic repair
Aortic arch repair, endovascular
Fenestrated endovascular aortic repair
Fenestrated stent-grafts
Branched endovascular aortic repair
Fenestrated and branched stent-grafts
Complex endovascular aortic repair
Arch stent-grafts
Median arcuate ligament syndrome (MALS) release
Mesenteric ischemia, open and endovascular repair
Renal artery disease, open and endovascular
Research Interests
Thoracoabdominal aortic aneurysms and dissections
Aortic arch aneurysms and dissections
Pararenal, juxtarenal and complex abdominal aortic aneurysms
Aortoiliac aneurysms
Endovascular aortic repair
Fenestrated and branched endovascular aortic repair
Vascular complications of connective tissue disorders
Mesenteric and renal arterial disease
Publications