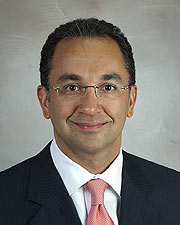 Adjunct Professor, Division of Vascular and Endovascular Surgery
Vascular & Endovascular Surgery
Aortic Aneurysms
Carotid Surgery
Peripheral Arterial Disease
Thoracic Outlet Syndrome
Varicose Veins
Biography
Dr. Ali Azizzadeh is a board certified vascular surgeon who specializes in the minimally invasive treatment of vascular disease. He is currently Adjunct Professor at McGovern Medical School and the Memorial Hermann Heart and Vascular Institute in Houston.
Dr. Azizzadeh has authored or co-authored over 200 scientific publications, abstracts, and book chapters in medical journals and textbooks.
He has given over 150 invited lectures on various vascular surgery topics to local, regional, national, and international audiences.
He actively participates in research on novel surgical techniques that have greatly improved outcomes, including work to test new grafts, stents, and other devices.
Dr. Azizzadeh has won a number of awards, including the Baylor University Distinguished Young Alumnus Award in 2008.
Board Certifications:
American Board of Surgery, (General Surgery)
American Board of Surgery, (Vascular Surgery)
Education
Medical Degree

Baylor College of Medicine, Houston, Texas, 1999

Residency

General Surgery, Baylor College of Medicine, Houston, Texas, 2003

Fellowship

Vascular Surgery, Washington University School of Medicine and Barnes-Jewish Hospital, St. Louis, Missouri, 2004
Areas of Interests
Clinical Interests
Vascular & Endovascular Surgery, Aortic Aneurysms, Carotid Surgery, Peripheral Arterial Disease, Thoracic Outlet Syndrome, Varicose Veins
Additional Information
Memberships
Fellow, American College of Surgeons
American Heart Association
International Society for Vascular Surgery
Society for Vascular Surgery
Southern Association for Vascular Surgery
Society for Clinical Vascular Surgery
Michael E. DeBakey International Surgical Society
Association for Academic Surgery
American Medical Association
Honors
2015 Houstonia Magazine Top Doctors
2016 Houstonia Magazine Top Doctors
2016 Houston Chronicle Top Doctors