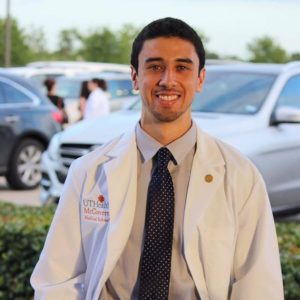 Carlos Flores
What inspired you to go to medical school?
My inspiration to go to Medical School stems back to my experiences growing up in Mexico. Even though I was blessed with considerable support from friends and family, I was constantly exposed to the disparities so many suffered from the lack of medical care and proper attention that they deserved and I would like to do my part in service to others in the future as a result, no matter where I go.
What are / were your role models in medicine?
My role model, while not particularly in medicine, is St. Mother Teresa. Her willingness to go where very few ventured in order to attend to the needs of the poor and the sick are what I strive to encompass as a future physician and I hope to have just a fraction of her bravery to step out of my comfort zone to be a helping hand to those who need it most as well.
 What is your favorite thing about UTHealth?
My favorite thing about UTHealth would definitely have to be the people that make up the institution and how helpful they can be. Rarely do I seek help and not get the advice or direction I need to help me through my studies or just finding someone to talk to as well. It's truly a very welcoming community with much vision for the future.