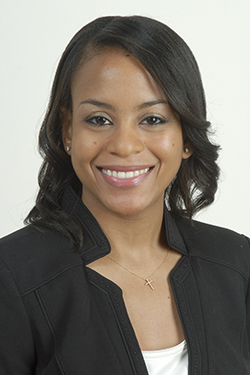 Dr. Kara Calhoun
Internal Medicine Resident, PGY-2
What inspired you to go to medical school?
I knew I wanted to go to medical school and be a doctor from a very young age. My father is a doctor, and I remember following him around the hospital when I was in elementary and middle school. Take your daughter to work day was always my favorite day of the year, and I loved interacting with volunteers and employees. I saw first-hand how patients place so much hope and faith in doctors, and I knew I wanted to help someone in their most vulnerable state.
Who are/were your models in medicine?
My first role model in medicine is of course my father, but progressing through my career I have found that it is very important to have multiple role models and mentors in various aspects of your career. Throughout medical school and residency I have developed relationships with research mentors, specialty specific mentors, and life mentors (ie how do I balance being a woman in medicine with a family one day?). There is no rule saying that you can only have 1 mentor, and I think if you want to be successful, it is critical to have a diverse set of people to help you thrive and excel in different aspects of your life.
What is your favorite things about UTHealth?
My favorite thing about UTH is the sense of family. From my very first day of medical school to my current role as a resident, I have always felt like a part of a loving and supportive community. I have made lifelong friends here, and it was one of the main reasons I decided to stay here for residency. The support I had through the student affairs office as a student, and now the Internal Medicine office as a resident has been more than I ever could have imagined. To be honest, I'm not sure I will ever leave!
What do you feel that a Diverse and Inclusive learning environment is so important in medical education?
I believe it is critical to learn from and work beside people from different backgrounds and experiences. When you work in a diverse community it provides you with a much richer experience, and helps you to grow as a person. So often people tend to think of diversity primarily as a difference in racial or ethnic backgrounds, but in reality it is so much broader. Diversity includes differences in socio-economic background, language, and sexual orientation just to name a few. I believe I am a better person for working at a diverse workplace with a diverse set of patients, and it is something I would never want to change!