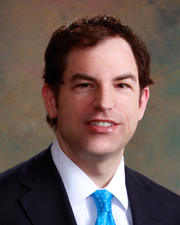 Dr. Wade McAlister
Assistant Professor, Department of Orthopedic Surgery
Could you give some background about where you were born, raised, went to college, medical school and residency?
I was born in Anchorage, Alaska.  My parents were in the oil industry and we moved a lot while I was in elementary school before finally settling in Houston .  During that time, I lived in Corpus Christi, Houston, Jackson, MS, and back to Houston.  I received my bachelor's degree in business administration from SMU (Southern Methodist University) with a study-abroad at Oxford University.  Between undergraduate and medical school I taught junior high school in the Japanese public school system.  I then returned and received my MD from Texas Tech – Lubbock and El Paso (and did an elective rotation at Keio University Medical School in Tokyo).  Following medical school I received my residency training at Albany Medical Center in upstate, NY, and completed a Knee Reconstruction and Sports Medicine Fellowship at the Insall Scott Kelly Institute in New York City.
When did you join UTHealth?
I began working with UTHealth in November 2008.  I was in private practice and offered to work with the Orthopaedic residents at LBJ once a week on Wednesdays.  I joined UT full time in Jan. 2012.  I became full time teaching faculty in April 2014.
Tell us a little bit about what you do as a faculty member?  What opportunities are available to you?  What challenges do you face in your area discipline?
I'm in the Dept. of Orthopaedic Surgery and am full time at LBJ.  I lead a weekly clinical case conference for the orthopaedic residents and medical students.  I participate in teaching conferences and supervise the residents in surgery and in the clinic.  I also facilitate surgical skills sessions to residents.  In the fall, I provide medical services on the sidelines at HISD high school football games.  Each spring I provide medical coverage at the ATP Clay Court Tennis Championships.  In addition I serve on several hospital and medical school committees.
Opportunities:  provide medical care to patients at a safety net hospital and restore their functions to return them to their daily activities, work, and sports.  I am able to teach the next generation of orthopaedists.  I have the opportunity to work with and learn from national and international leaders in several subspecialties of orthopaedics.
Challenges:  In orthopaedics we strive to restore anatomy and thereby function.  However, we still struggle with precise placement of reconstructed ligaments or restoring joint surfaces involved with fractures.  We are not able to restore normal articular cartilage in joints that are damaged due to injury or arthritis.
What inspired you to pursue a career in medicine? 
Growing up I was very interested in the way the body works, or biomechanics.  I was interested in Orthopaedics since high school when I worked in an orthopaedic surgeon's office after school.
Who are/were your role models in medicine?
I learned invaluable insights into the practice of medicine, attaining work life balance, and managing competing interests from my residency and fellowship mentors and our current department chair.
How do you promote diversity in patient care and medical education?
I treat patients as I would want to be treated or as I would want my family to be treated:  with respect and to give them the best of my abilities.  In education, I encourage students to pursue their interests regardless of what they perceive others want them to pursue.