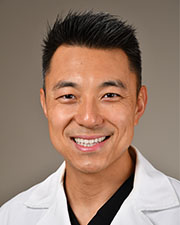 Assistant Professor
Assistant Medical Director: Memorial Hermann TMC Emergency Department
Operations and Administration Fellowship Director
Biography
Dr. Zheng (Ben) Ma is a Houston native and completed medical school at Baylor College of Medicine where he graduated through the Healthcare for the Underserved Track, served as class president, and was awarded the Dr. Alexandra Greene National Medical Student of the Year Award from the Emergency Medicine Residents Association (EMRA).
Dr. Ma completed residency training at the Harvard Affiliated Emergency Medicine Residency at Massachusetts General Hospital and Brigham and Women's Hospital and served as chief resident. His team was recognized with an institutional 'Partners in Excellence' award for their redesign of multidisciplinary trauma activation and resuscitation protocols for their Level 1 trauma center.
Dr. Ma completed a fellowship in Emergency Department leadership and administration at Mass General Brigham where his projects aimed to streamline admission for critically ill patients in the ED, reduce time to antibiotic administration in sepsis, and optimize full capacity protocol during times of hospital overcrowding. His capstone project involved a detailed analysis of emergency care delivery services with care improvement recommendations for a rural region of the northeast.
Dr. Ma received additional training in value-based healthcare delivery from Harvard Business School, healthcare policy foundations from Partners Healthcare, and ED leadership and design principles from the International Emergency Department Leadership Institute. He holds a Master's in Healthcare Management (MHCM) from Harvard University.
Education
Medical School

Baylor College of Medicine

Residency

Harvard Affiliated Emergency Medicine Residency - Massachusetts General Hospital and Brigham and Women's Hospital

Fellowship

Mass General Brigham Fellowship in Emergency Medicine Administration

Master in Healthcare Management (MHCM)

Harvard T.H. Chan School of Public Health
Areas of Interest
Clinical Interests
Healthcare for Vulnerable Populations, ED recognition and care for victims of human trafficking, Patient Experience
---
Research Interests
Operations Management, Solutions to ED and Hospital Crowding, Value-Based Healthcare Delivery