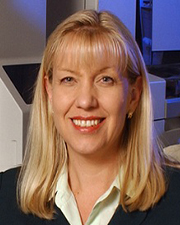 Dianna M. Milewicz, M.D., Ph.D.
Professor
Division Director, Medical Genetics, Medical School
Vice-Chair, Department of Internal Medicine, Medical School
Biography
Dianna M. Milewicz, M.D. Ph.D., is the President George H.W. Bush Chair of Cardiovascular Medicine, Director of the Division of Medical Genetics and Vice-Chair of the Department of Internal Medicine at the University of Texas Medical School at Houston.  She completed her postgraduate training in internal medicine, specialized further in medical genetics, and forged a career in translational studies focused on genetic predisposition to vascular diseases.  She has received numerous honors and awards for her research, including the Antoine Marfan Award, the Doris Duke Distinguished Clinical Scientist Award, and the University of Texas Presidential Scholars Award for Excellence in Research.  She has been inducted into the American Society of Clinical Investigation and the Association of American Physicians.  Dr. Milewicz has been the Director of the M.D./Ph.D. Program offered jointly between the University of Texas Health Science Center at Houston and MD Anderson Cancer Center institutions for over 10 years and is Chair of the GREAT MD/PhD Section Committee.
Education
M.D.

University of Texas Southwestern Medical School

Ph.D.

University of Texas Southwestern Medical School

Residency

University of Texas Southwestern Medical School

Fellowship

University of Washington
Areas of Interests
Research Interests
Genetic basis for thoracic aortic aneurism
Publications