When you think of a first responder, a firefighter or emergency room physician may spring to mind. Yet the COVID-19 pandemic proved scientists at the IMM's Texas Therapeutics Institute (TTI) also could adopt this designation as they quickly mobilized their labs and colleagues to help fight a worldwide threat.
Confronting the pandemic, Zhiqiang An, PhD, director of TTI, pivoted his lab and through keen innovation and collaboration created a new product – a nasal spray to prevent and treat SARS-CoV-2.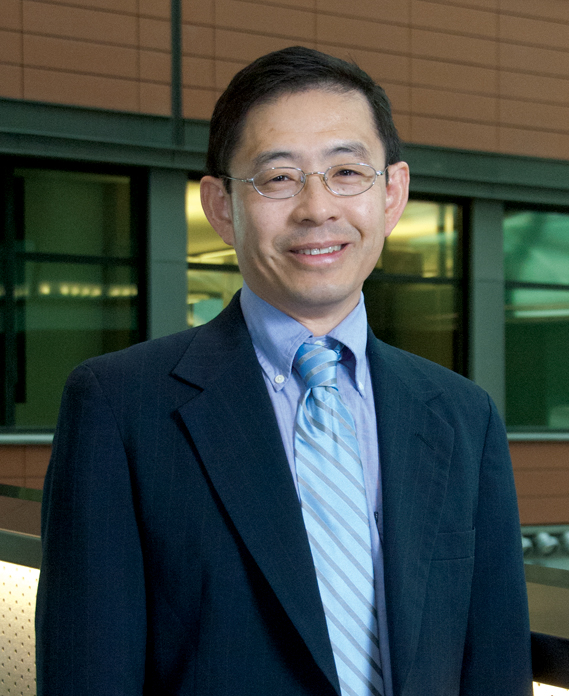 The journey to the nasal spray began with a postdoc in An's lab, Zhiqiang Ku, PhD, whose background in virology helped him to create antibodies to COVID-19 in the earliest days of the pandemic, in February 2020. Simultaneously, An's colleague from The University of Texas Medical Branch at Galveston, Pei-Yong Shi, PhD, reached out about collaborating on an engineered COVID virus.
An and his lab decided to create a therapy using IgM antibodies instead of IgG antibodies, which are currently found in emergency-use authorization COVID treatment. The IgM antibodies are 10-valent (10-armed), meaning they can bind up to 10 viral spike proteins at once, versus the IgG antibodies, which are two-armed. More "arms" provides a stronger connection and more possibilities to attach to the virus.
"I knew the virus would mutate, and we needed our antibody to work in the future," An explained of the IgM choice.
In addition to using the IgM antibodies, An said he and his group carefully chose a nasal delivery to directly target the respiratory tract, thereby using less drug and in a more convenient manner than the current intravenous antibody treatments.
"Respiratory mucosal antibodies are key to clearing SARS-CoV-2 infection and reducing viral transmission, and IgM antibodies are nature's first line of defense against pathogens such as viruses. The current emergency-use authorization antibodies, which are all IgG antibodies, are administered intravenously at high doses and don't directly target the main sites of infection."

– Zhiqiang, An, PhD
Research published in the July 3, 2021 issue of Nature found that the team's IgM antibody nasal spray provided a broad coverage of COVID variants of concern and interest and was 230 times more effective at neutralizing SARS-CoV-2 than the IgG antibody they first tested.
"Our antibody can neutralize the virus," said An, holder of the Robert A. Welch Distinguished University Chair in Chemistry.
The nasal spray, which has been licensed to IGM Biosciences for drug development, is now being tested in humans in the United States and South Africa.
An said the nasal spray could be an effective alternative to the ubiquitous mask. "Say you were going to a party and wanted to be protected – you could use the nasal spray in advance. Or, if you were at an event and someone was sick, you could use the spray afterwards and be protected for up to two weeks," An said.
The nasal spray is just one of 10 drugs currently in development from TTI. With a focus on drug discovery and development, the institute's investigators and collaborators have garnered more than $25 million in research support from NIH, CPRIT, DoD, and the biotechnology/pharmaceutical industry in the last five years.
"TTI is an antibody drug discovery platform," An said. "Our lab is working on the cutting edge and being responsive – that is what we are here to do. We are here to immediately respond to public health emergencies and create drugs that can help."
Request full IMMpact Report pdf