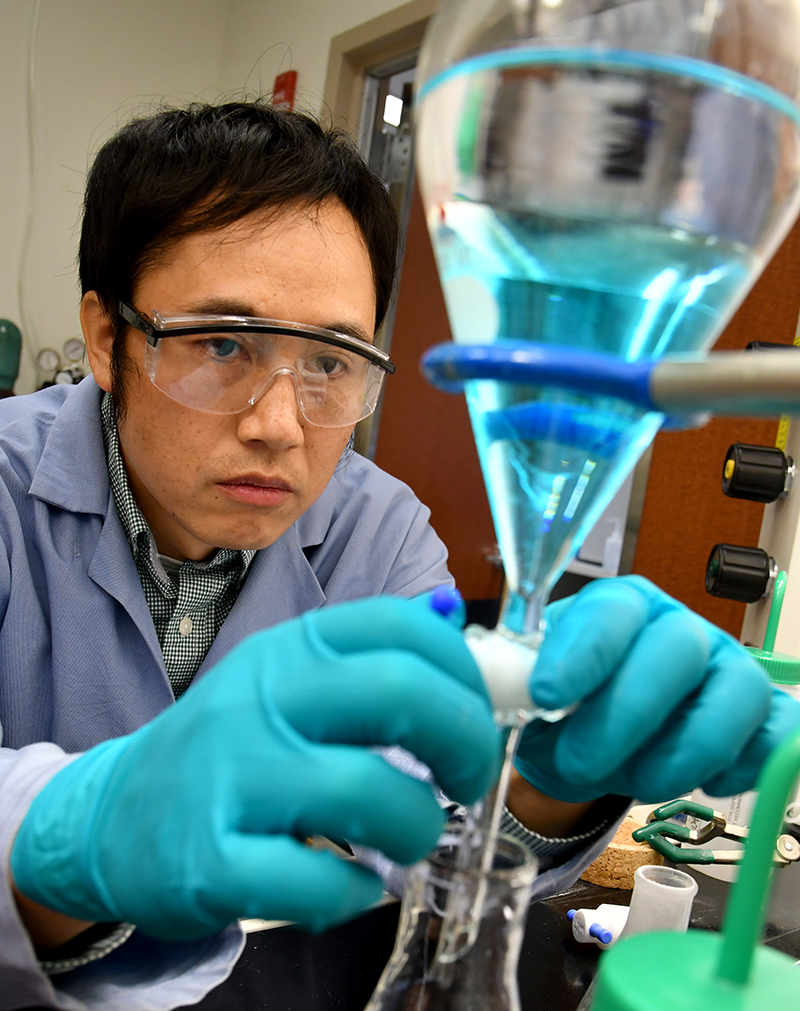 For many, the last year could be described as challenging, chaotic, and overwhelming.
Thanks to a prestigious NIH grant, Kyoji Tsuchikama, PhD, associate professor in the Institute of Molecular Medicine's Texas Therapeutics Institute, describes the last year as "amazing."
The R35 grant from the National Institutes of Health provides research support for work within the mission of the National Institute of General Medical Sciences, allowing an investigator stable funding – up to $750,000 per year for up to 5 years. Such funding allows scientists to focus broadly on their work instead of spending valuable time applying for new grant support.
Tsuchikama's new R35 grant, "Chemical approaches for generating blood-brain barrier-permeable antibody conjugates" funds research to create a foundation for new antibody agents for brain diseases, including brain cancer, by creating a more efficacious and safer drug-delivery method.
The R35 grant recognizes the labs' previous research success with antibody-drug conjugates (ADCs) treating breast tumors and resulting in two publications in Nature Communications in 2018 and 2021. Now he is moving on to a more challenging area of the body.
"The brain is our most protected organ, and as such, delivering drugs to it is very difficult. We need a trick to facilitate reaching the brain. Some drugs are delivered directly to the brain but are invasive – our approach is developing new technologies to facilitate systemic drug delivery of effective antibodies to the brain or brain tumors by intravenous injection."

– Dr. Kyoji Tsuchikama
Tsuchikama's lab focuses on creating ADCs – an alternative to chemotherapy in the treatment of cancer – that target and kill tumor cells while not affecting healthy cells. An ADC combines antibodies to specific antigens on a tumor cell with anti-cancer agents via a chemical linker.
"In the same way we have worked on breast cancer tumors, we are developing novel ADC linker technologies to treat brain diseases, particularly glioblastoma," he said.
Glioblastoma is the most common occurring malignant primary brain tumor. With about 12,000 cases diagnosed in the United States each year, the average survival time is 12-18 months after diagnosis.
"Glioblastoma is the most aggressive lethal brain tumor, and poor delivery seems to be the issue for new drugs to treat it. We are in dire need of improving the drug delivery method," Tsuchikama said.
The lab is working to take advantage of its technology platform to fight not only cancer but also leverage it for antivirals and other diseases.
"We will try other drug combinations for other non-oncology fields. We have been receiving many requests for collaboration," Tsuchikama said, adding that they will be developing the ADCs for neurological disorders, such as Alzheimer's disease, as well as other cancers such as lung and pancreas.
"We are working in animal models now and our next step is to work with experts in each field to see if our molecular platform can work in their models," he said.
The lab is also funded by the Department of Defense and the Cancer Prevention Research Institute of Texas, a state agency that funds cancer research. Scientists from across the state and nation have reached out to Tsuchikama regarding collaborative projects.
"There is no limitation or restriction on our disease target. Our ADC technology is versatile and universal," he said.
Request full IMMpact Report pdf