Humanism in Medicine Award – Dr. Heinrich Taegtmeyer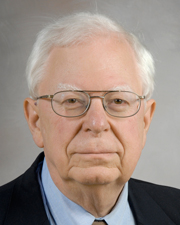 Dr. Heinrich Taegtmeyer, Professor of Internal Medicine, is the 2015 recipient of the Leonard Tow Humanism in Medicine Award presented by the Arnold P. Gold Foundation.
"When I first read that I would receive the Humanism in Medicine Award, I thought it was because of my 'humanistic' high school education," Taegtmeyer said. "Growing up in Germany after the Second World War, I attended a high school with Latin, Greek, and Hebrew as the main subjects (the German "Humanistisches Gymnasium"). When I finally started medical school at the University of Freiburg (Germany) in 1962, I had to catch up on the sciences. It was like taking a Super MCAT.
"Today, such a curriculum sounds a bit archaic, but I can see a direct line from Humanism to the Age of the Enlightenment. Reason, knowledge, progress, and respect for the individual are the foundation for our present 'scientific age' (and also for the Constitution of the United States). One of the benefits of a humanistic education is the humbling experience that our ancestors dealt already with the same challenges of life as we do today. We never ever stop learning."
The Leonard Tow Humanism in Medicine Award annually honors faculty who are exemplary in their compassion and sensitivity in the delivery of care to patients and their families, who administer scientifically excellent clinical care, and who serve as role models to students.
Taegtmeyer received his M.D. from the University of Freiburg in Germany and his doctorate of philosophy from the University of Oxford. He completed a residency at Boston City Hospital and a fellowship in cardiology at the Peter Bent Brigham Hospital. He joined McGovern Medical School faculty in 1982 as a board-certified cardiologist with a Ph.D. in biochemistry.
"It was important to me to have the right credentials for an academic career," he said. "Because of this, I am able to continue to see patients, teach students, residents, and fellows, and run my 'small lab with big ideas,' which has now been supported by the NIH for nearly 40 years. I am very grateful for all those opportunities, as I am grateful to my peers and to my patients. Some patients have trusted me for more than 30 years and taught me more than any medical textbook."
Taegtmeyer said as a resident on the Harvard Medical Service at the Boston City Hospital in the early 1970s, he experienced a spirit of learning, serving, and social responsibility, which has formed his subsequent career as a physician scientist. He continued: "Providing the best possible medical care to the disenfranchised was the goal for all of us. Although the old Boston City Hospital no longer exists, a concern about social justice has remained with all of us residents throughout our careers in medicine."
As in research, Taegtmeyer said, asking the right questions is key to excellence in patient care. "Listening to the patient is the bedrock of good medicine. When it comes down to it: The patient is always right. Just like nature is always right. But we need to remain critical and vigilant, else we forget the life cycle and become beholden to the revenue cycle. There is no room for complacency."
A multiple recipient of the Dean's Teaching Excellence Award, Taegtmeyer is a member of Alpha Omega Alpha and a fellow of the American Heart Association, the International Society of Heart Research, the American College of Cardiology, the American College of Physicians, and the International Academy of Cardiovascular Sciences. He served as president of the Society for Heart and Vascular Metabolism 2006-09. Taegtmeyer is board certified by the ABIM in Internal Medicine and Cardiovascular Diseases. He has supervised 12 graduate students and 16 postdoctoral fellows, and he has mentored 23 medical or surgical residents on research rotations, as well as over 50 summer students. Said Taegtmeyer:" From Albrecht Fleckenstein in Freiburg to Ron Arky in Boston, from Lew Dexter at the Brigham to Hans Krebs at Oxford, I had the best possible teachers I could ask for. All were physicians, all were scientists, and all were superbly kind human beings. So I am only trying to give some of it back what I have received first."
His clinical studies investigate molecular mechanisms of heart failure and the effects of diabetes and obesity on the heart. Taegtmeyer has served on the editorial board of Circulation Research since 1991. In 2012, he received the Distinguished Scientist Award from St. Luke's Episcopal Hospital for his work, together with Dr. Bud Frazier, on the Molecular LVAD.
Taegtmeyer said the support of his family has been essential on every step along the way. "My wife and our three children have been very understanding.   The children are now all grown, of course. They live and work in Europe. Our son Daniel is a social worker with the NHS in London, our two daughters, Miriam and Anne, are physicians, both of them in academic medicine. The journey has sometimes been very challenging for us, but we are most proud of our children and grandchildren."
Previous winners of the Leonard Tow Humanism in Medicine Award are Joseph Love, D.O., 2014; Joanne Oakes, M.D., 2013; Stefano Sdringola-Maranga, M.D., 2012; Saleem Khan, M.D., 2011; Gus W. Krucke, M.D., 2010; James "Red" Duke, M.D., 2009; Pedro Mancias, M.D., 2008; Keith Hoots, M.D., 2006; Larry C. Gilstrap III, M.D., 2005; Virginia A. Moyer, M.D., M.P.H., 2004; Cheves M. Smythe, M.D., 2003;Oscar Rosales, M.D., 2002; Philip C. Johnson, M.D., 2001; Philip R. Orlander, M.D., 2000; and John R. Stroehlein, M.D., 1999.
-Darla Brown, Office of Communications, Medical School