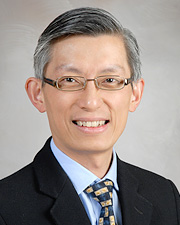 Professor, Cardiovascular Medicine
Biography
Dr. Kee is a non-invasive cardiologist with clinical interests in preventive cardiology, lipid management and non-invasive cardiovascular imaging.
He runs a preventive cardiology and lipid disorder clinic at the UT Professional Building, Texas Medical Center. Typical referrals include patients with lipid disorders, family history of premature cardiovascular disease, personal history of heart attacks and/ or strokes, as well as other general cardiology conditions. He has over 15 years experience in non-invasive imaging with special interests on echocardiography, stress echo and transesophageal echo.
He is also active in translational research with research projects include novel techniques for identifying biomarkers in association with atherosclerosis, new molecular imaging tracer design for non-invasive imaging of the vulnerable plaques and non-invasive imaging techniques to diagnose and monitor biomarkers of high-risk coronary lesions. His research has been funded by the National Institute of Health and the American Heart Association.
Education
Bachelor of Medicine, Bachelor of Science

University of Adelaide, Adelaide, Australia

Doctoral Degree

University of Adelaide, Adelaide, Australia

Residency

University of Adelaide, Adelaide, Australia

Fellowship

University of Adelaide, Adelaide, Australia
Areas of Interest
Clinical Interests
Preventive cardiology, cardiovascular risk assessment, lipid management, echocardiography, transesophageal echo, stress echo, non-invasive cardiovascular imaging
Research Interests
Molecular imaging of atherosclerosis, vulnerable plaque pathology, animal models of atherosclerosis, lipoprotein metabolism, imaging contrast design
Publications
Board Certifications
American Board of Internal Medicine
Board Certified in Adult Comprehensive Echocardiography
Board of Echocardiography
Board Certified in Cardiovascular Computed Tomography