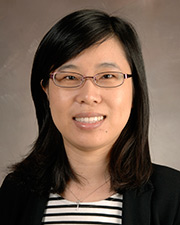 Assistant Professor, Clinical and Translational Sciences
Biography
Dr. Chunyan Cai received her Ph.D. degree in Biostatistics in 2012 from The University of Texas MD Anderson Cancer Center UTHealth Graduate School of Biomedical Sciences under the supervision of Professors Valen Johnson and Ying Yuan. Her Ph.D. thesis is about Bayesian adaptive designs for early phase clinical trials.
In 2012, she joined the University of Texas Health Science Center at Houston (UTHealth) McGovern Medical School as an Assistant Professor. Her research interests include developing novel Bayesian adaptive clinical trials designs, cost-effectiveness designs for animal studies, and statistical methods for longitudinal and recurrent event data. In addition to the methodological research, she has collaborated with various investigators from UTHealth McGovern Medical School on a wide range of clinical and translational studies.
Education
Bachelor Degree

Biological Science, University of Science and Technology of China, Hefei, China

Doctoral Degree

Biostatistics, The University of Texas MD Anderson Cancer Center UTHealth Graduate School of Biomedical Sciences, Houston, TX
Areas of Interests
Research Interests
Bayesian Analysis
Adaptive Clinical Trial Designs
Cost-effectiveness Designs for Animal Studies
Statistical Methods for Longitudinal and Recurrent Event Data
Meta-analysis
Publications
Publication Information
Statistical Methods Research
Cai C, Yuan Y, and Johnson V. E. Bayesian adaptive phase II screening design for combination trials. Clinical Trials, 10(3):353–362, 2013.
Liu S, Cai C, and Ning J. Up-and-down designs for phase I clinical trials. Contemporary Clinical Trials, 36(1):218–227, 2013.
Cai C, Liu S, and Yuan Y. A Bayesian design for phase II clinical trials with delayed responses based on multiple imputation. Statistics in Medicine, 33(23):4017–4028, 2014.
Cai C, Yuan Y, and Ji Y. A Bayesian dose finding design for oncology clinical trials of combinational biological agents. Journal of the Royal Statistical Society: Series C (Applied Statistics), 63(1):159–173, 2014.
Chen Y, Ning J, and Cai C. Regression analysis of longitudinal data with irregular and informative observation times. Biostatistics, 16(4):727–739, 2015.
Ning J, Chen Y, Cai C, Huang X, and Wang M.-C. On the dependence structure of bivariate recurrent event processes: inference and estimation. Biometrika, 102(2):345–358, 2015.
Rahbar M. H, Dickerson A. S, Cai C, Pedroza C, Hessabi M, Shen L, Pandurengan R, Jacobs A. N. M, Indupuru H, Sline M. R, and others . Methodological issues for designing and conducting a multicenter, international clinical trial in acute stroke: experience from ARTSS-2 trial. Contemporary Clinical Trials, 44:139–148, 2015.
Cai C, Ning J, and Huang X. A Bayesian multi-stage cost-effectiveness design for animal studies in stroke research. Statistical Methods in Medical Research, page doi: 10.1177/0962280216657853, 2016.
Tang Y*, Cai C*, Sun L, and He J. Bayesian penalized log-likelihood ratio approach for dose response clinical trial studies. Journal of Biopharmaceutical Statistics, in press. (* co-first author)
Lu T, Cai C, Lu M, Zhang J, Dong G, Wang M. Bayesian varying coefficient mixed-effects joint models with asymmetry and missingness. Statistical Modelling, in press.
Cai C, Piao J, Ning J, and Huang X. Efficient two-stage designs and proper inference for animal studies. Submitted.
Cai C, Rahbar M. H, Hossain M. M, Yuan Y, and Gonzales N. R. A placebo-controlled Bayesian dose finding design based on continuous reassessment method in stroke research. Submitted.
Collaborative Research (Diagnostic and Interventional Imaging)
Govindarajan KA, Freeman L, Cai C, Rahbar MH, Narayana PA. (2014) Effect of intrinsic and extrinsic factors on global and regional cortical thickness. PloS one 9(5) e96429.
He H, Cai C, Charnsangvej C, Theriault RL, Green M, Quraishi MA, Yang WT. (2015) Contrast-enhanced computed tomography evaluation of hepatic metastases in breast cancer patients before and after cytotoxic chemotherapy or targeted therapy. Canadian Association of Radiologists Journal, 66 (4), 356-362.
Beckmann NM, Cai C. (2016) CT incidence of Morel-Lavallee lesions in patients with pelvic fractures: a 4-year experience at a level 1 trauma center. Emergency Radiology, doi:10.1007/s10140-016-1430-1
Beckmann NM, Saverino B, Cai C. (2016) Focal brachial enhancement deficit: a normal anatomic variant? Skeletal Radiology, doi:10.1007/s00256-016-2435-2.
Beckmann N, Cai C. (2016) CT characteristics of traumatic sacral fractures in association with pelvic ring injuries: correlation using the Young-Burgess classification system. Emergency Radiology, 2016 Dec 21:1-8.
Golshani A, Zhu L, Cai C, Beckmann NM. (2017) Incidence and association of CT findings of ankle tendon injuries in patients presenting with ankle and hindfoot fractures. American Journal of Roentgenology, 208 (2), 373-379.
Beckmann NM, Chinapuvvula NR, Cai C. (2017) Association of Femoral Head and Acetabular Fractures on Computerized Tomography: Correlation with the Judet-Letournel Classification. Emergency Radiology, in press.
Collaborative research (Stroke)
McDonald MM, Archeval-Lao JM, Cai C, Peng H, Sangha N, Parker SA, Wetzel J, Riney SA, CherchesMF, Guthrie GJ, Roper TC, Kawano-Castillo JF, Pandurengan R, Rahbar MH, Grotta JC. (2014) Iodinated contrast does not alter clotting dynamics in acute ischemic stroke as measured by thromboelastography. Stroke 45(2), 462-466.
Bowry R, Fraser S, Archeval-Lao JM, Parker SA, Cai C, Rahbar MH, Grotta JC. (2014) Thrombelastography detects the anticoagulant effect of rivaroxaban in stroke patients. Stroke 45 (3), 880-883.
Kawano-Castillo J, Ward E, Elliott A, Wetzel J, Hassler A, McDonald M, Parker SA, Archeval-Lao J, Tremont C, Cai C, Pivalizza E, Rahbar MH, Grotta JC. (2014) Thrombelastography detects possible coagulation disturbance in patients with intracerebral hemorrhage with hematoma enlargement. Stroke 45(3), 683-688.
Wu TC, Sitton C, Potter A, Bowry R, Sahota P, Cai C, Hui P, Chen Z, Gonzales N, Barreto A, Lopez G, Grotta JC, Savitz SI. (2014) CTP infarct core may predict poor outcome in stroke patients treated with IV t-PA. Journal of the neurological sciences 340(1-2), 165-169.
Feng KL, Person C, Phillips-Sabol J, Williams B, Cai C, Jacobs AN, Indupuru H, Aramburo-Maldonado L, Shen L, Grotta JC, Barreto AD. (2014) Comparison between a standardized questionnaire and expert clinicians for capacity assessment in stroke clinical trials. Stroke, 45 (11), e229-e232.
Ifejika NL, Vahidy F, Aramburo-Maldonado LA, Cai C, Sline MR, Grotta JC, Savitz SI. (2015) Acute intravenous tissue plasminogen activator therapy does not Impact community discharge after inpatient rehabilitation. International Journal of Neurorehabilitation, 2 (4).
Huang RS, McDonald MM, Wetzel JS, Kawano-Castillo J, Parker SA, Archeval-Lao J, Cai C, Rahbar MH, Nguyen AN, Baba SJ, Grotta JC. (2015) Clot strength as measured by thrombelastography correlates with platelet reactivity in stroke patients. Annals of Clinical and Laboratory Science, 45 (3), 301-317.
Riecke J, Johns KM, Cai C, Vahidy FS, Parsha K, Furr-Stimming E, Schiess M, Savitz SI. (2015) A meta-analysis of mesenchymal stem cells in animal models of Parkinson's disease. Stem Cells and Development, 24 (18), 2082-2090.
McDonald MM, Wetzel J, Fraser S, Elliott A, Bowry R, Kawano-Castillo JF, Cai C, Sangha N, Messier J, Hassler A, Archeval-Lao J, Parker SA, Rahbar MH, Pivalizza EG, Chang TR, Grotta JC. (2016) Thrombelastography does not predict clinical response to rtPA for acute ischemic stroke. Journal of Thrombosis and Thrombolysis, 41 (3), 505-10.
Jagolino AL, Jia J, Gildersleeve K, Ankrom C, Cai C, Rahbar MH, Savitz SI, Wu TC. (2016) A call for formal telemedicine training during stroke fellowship. Neurology, 86 (19), 1827-1833.
Navalkele DD, Cai C, Vahidy F, Rahbar MH, Pandurengan R, Wu TC, Sarraj A, Barreto A, Grotta JC, Gonzales N. (2016) Higher prehospital blood pressure prolongs door to needle thrombolysis times: a target for quality improvement? The American Journal of Emergency Medicine, 34 (7) 1268-1272.
Parsha K, Mir O, Satani N, Yang B, Guerrero W, Mei Z, Cai C, Chen PR, Gee A, Hanley PJ, Aronowski J, Savitz SI. Mesenchymal stromal cell secretomes are modulated by suspension time, delivery vehicle, passage through catheter, and exposure to adjuvants. Cytotherapy, in press.
Barreto AD, Ford GA, Shen L, Pedroza C, Tyson J, Cai C, Rahbar MH, Grotta JC. Randomized, multi-center trial of argatroban with recombinant tissue plasminogen activator for acute stroke (ARTSS- 2). Stroke, in press.
Collaborative research (Anesthesiology)
Cattano D, Wojtczak JA, Callender R, Cai C, Tezino T, Zundert T, Hagberg CA. (2014) External neck landmark identification and measurement correlation in a normal weight cohort. Journal of Anesthesiology and Clinical Research, 3(1): 7.
Williams GW, Sharma A, Cai C. (2014) A retrospective study of the impact of mean arterial pressure on estimated blood loss during endoscopic sinus surgery. Online Journal of Otolaryngology, 4(4), 55-73.
Williams GW, Lindsay L, Koronfel M., Cai C. (2014) Evaluation of the use of upper extremity 16, 18, and 20 gauge peripheral intravenous catheters to obtain intraoperative blood samples under general Anesthesia. The Internet Journal of Anesthesiology, 33(1).
Cattano D, Killoran PV, Cai C, Katsiampoura AD, Corso RM, Hagberg CA. (2014) Difficult mask ventilation in general surgical population: observation of risk factors and predictors. F1000Research, 3:204.
Cattano D, Katsiampoura A, Corso RM, Killoran PV, Cai C, Hagberg CA. (2014) Predictive factors for difficult mask ventilation in the obese surgical population. F1000Research 3:239
Hiller KN, Altamirano AV, Cai C, Tran SF, Williams GW. (2015) Evaluation of waste anesthetic gas in the postanesthesia care unit within the patient breathing zone. Anesthesiology Research and Practice, Vol 2015: 354184
Katsiampoura AD, Killoran PV, Corso RM, Cai C, Hagberg CA, Cattano D. (2015) Laryngeal mask placement in a teaching institution: analysis of difficult placements. F1000Research 4:102
Cattano D, Sridhar S, Cai C, Mullaly A, Kainer L, Sparkle T, Castriotta RJ, Courtney S, Hagberg CA. (2016) Assessing risk of obstructive sleep apnea by STOP-BANG questionnaire in an adult surgical population screened in the preoperative anesthesia clinic. Minerva Anestesiologica, 82 (5), 605-6.
Hiller KN, Karni RJ, Cai C, Holcombe JB, Hagberg CA. (2016) Comparing success rates of anesthesia providers versus trauma surgeons in their use of palpation to identify the cricothyroid membrane in female subjects: a prospective observational study. Canadian Journal of Anesthesia, 63 (7), 807-817.
Gautam NK, Cai C, Pawelek O, Rafique MB, Cattano D, Pivalizza EG. Performance of functional fibrinogen Thromboelastography in children undergoing congenital heart surgery. Pediatric Anesthesia, in press.
Tyler MA, Lam K, Ashoori F, Cai C, Kain JJ, Fakhri S, Citardi, MJ, Cattano, D, Luong A. Analgesic Effects of Intravenous Acetaminophen for Endoscopic Sinus Surgery: A Prospective Double-Blinded Randomized Trial. JAMA Otolaryngology, In press.
Collaborative research (Other)
Solhpour A, Chang KW, Balan P, Cai C, Sdringola S, Denktas AE, Smalling RW, Anderson HV. (2014) Comparison of outcomes for patients ≥75 years of age treated with pre-hospital reduced-dose fibrinolysis followed by percutaneous coronary intervention versus percutaneous coronary intervention alone for treatment of ST-elevation myocardial infarction. American Journal of Cardiology, 113(1), 60-63.
Lim M, Arslan Z, Cai C, Kim CY, Geng YJ, Denktas AE.(2014) Total ischemic time as an independent predictor of response to stem cell therapy in patients with ST segment elevation myocardial infarction. ISRN Stem Cells, 2014 (Article ID 293967).
Bohaty BR, Choi S, Cai C, Hebert AA. (2014) Clinical and bacteriological efficacy of twice daily topical retapamulin ointment 1% in the management of impetigo and other uncomplicated superficial skin infections. International Journal of Women's Dermatology, 1(1), 13-20
Fatheree NY, Liu Y, Ferris M, Arsdall M, McMurtry V, Zozaya M, Cai C, Rahbar MH, Hessabi M, Vu T, Wong C, Min J, Tran DQ, Navarro F, Gleason W, Gonzalez S, Rhoads JM. (2016) Hypoallergenic formula with lactobacillus rhamnosus GG for babies with colic: a pilot study of recruitment, retention, and fecal biomarkers. World Journal of Gastrointestinal Pathophysiology, 7 (1), 160-170.