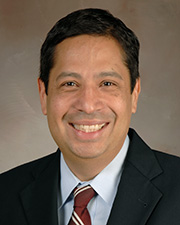 Associate Professor, Cardiovascular Medicine
Biography
Dr. Aguilar graduated from Baylor College of Medicine and went on to complete both his internal medicine residency and cardiology fellowship at the Brigham and Women's Hospital, Harvard Medical School Boston. He also earned a Masters of Science in Clinical Investigation from Baylor College of Medicine. He is currently an Associate Professor in the Department of Internal Medicine, Division of Cardiology at The University of Texas Health Science Center (UTHealth) McGovern Medical School and an Associate Professor at the University of Texas Health Science Center School of Public Health in the Department of Epidemiology, Human Genetics, and Environmental Sciences. He has advanced training in non-invasive imaging, including echocardiography and nuclear cardiology.
Dr. Aguilar is board certified by the American Board of Internal Medicine in Internal Medicine and Cardiovascular disease. He is also board certified in Echocardiography and Nuclear Cardiology. Dr. Aguilar is a Fellow of the American Heart Association. He has been an associate editor and on the editorial board of multiple journals. He has been the principal investigator and co-investigator in multiple grants from the National Institutes of Health and has been actively involved in clinical trials testing new treatment strategies in cardiovascular disease. His research interests have focused predominantly on the impact of cardiometabolic disease (including type 2 diabetes mellitus) on health outcomes. Dr. Aguilar has authored and co-authored > 70 publications and book chapters.
As a native Houstonian, he is active in the Houston Community, previously serving on the Board of Directors for the American Heart Association in Houston. He is also active in teaching endeavors, both locally and nationally.
Education
Medical Degree

Baylor College of Medicine, Houston, TX

Residency

Brigham and Women's Hospital, Harvard Medical School, MA

Fellowship

Brigham and Women's Hospital, Harvard Medical School, MA
Areas of Interests
Clinical Interests
General cardiology, echocardiography, cardiometabolic disease
Board Certifications
American Board of Internal Medicine
American Board of Cardiovascular Disease
American Board of Nuclear Cardiology
American Board of Echocardiography