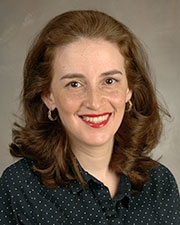 Diana Panesso Botero, BSc, MSc, PhD
Assistant Professor, Infectious Diseases
Biography
Diana Panesso Botero, BSc, MSc, PhD, is an Assistant Professor in the Division of Infectious Diseases, Department of Internal Medicine and the Center for Antibiotic Resistance and Microbial Genomics. She also holds a joint appointment at the Universidad El Bosque in Bogota, Colombia.
Dr. Panesso received her bachelor degree in bacteriology and obtained her Masters Degree in Clinical Microbiology and Ph.D. in Biological Sciences from the Pontificia Universidad Javeriana in Bogota, Colombia. While pursuing her masters, she received two scholarships to attend training in microbiology and molecular biology at the University of Cambridge, UK and the Unité des agents Antibactériens, Institute Pasteur, in France. During this time, she focused her work on the characterization of genes involved in vancomycin resistance in Enterococcus gallinarum. Subsequently, she obtained a scholarship from Colombia (COLCIENCIAS) towards her PhD program. In 2010, she received her degree in Microbiology and Biological Sciences, under the supervision of Cesar Arias, MD, PhD. As part of her PhD training, she moved to Houston, , and was trained at the Laboratory of Enterococcal Research (lead by Dr. Barbara E. Murray) to learn bacterial pathogenesis methodologies, as well as acquired highly specialized experience with molecular genetics techniques for enterococci.  Her Ph.D. project was related to the characterization of a megaplasmid (pHyl) and the elucidation of the role of a gene in pathogenesis of Enterococcus faecium.  As a result of this work, she obtained a laureate thesis and graduated Magna cum Laude.
Dr. Panesso works on the molecular basis of resistance to daptomycin in enterococci. This project has yielded important clues in the understanding of the mechanism of action of antimicrobial peptides. Her areas of interest include the molecular mechanisms of glycopeptide and daptomycin resistance in enterococci, the molecular epidemiology of staphylococci and enterococci, and the impact of bacterial resistance to antibiotic use in clinical settings.
Education
Master of Science

Pontificia Universidad Javeriana in Bogota, Colombia

Doctoral degree

Pontificia Universidad Javeriana in Bogota, Colombia