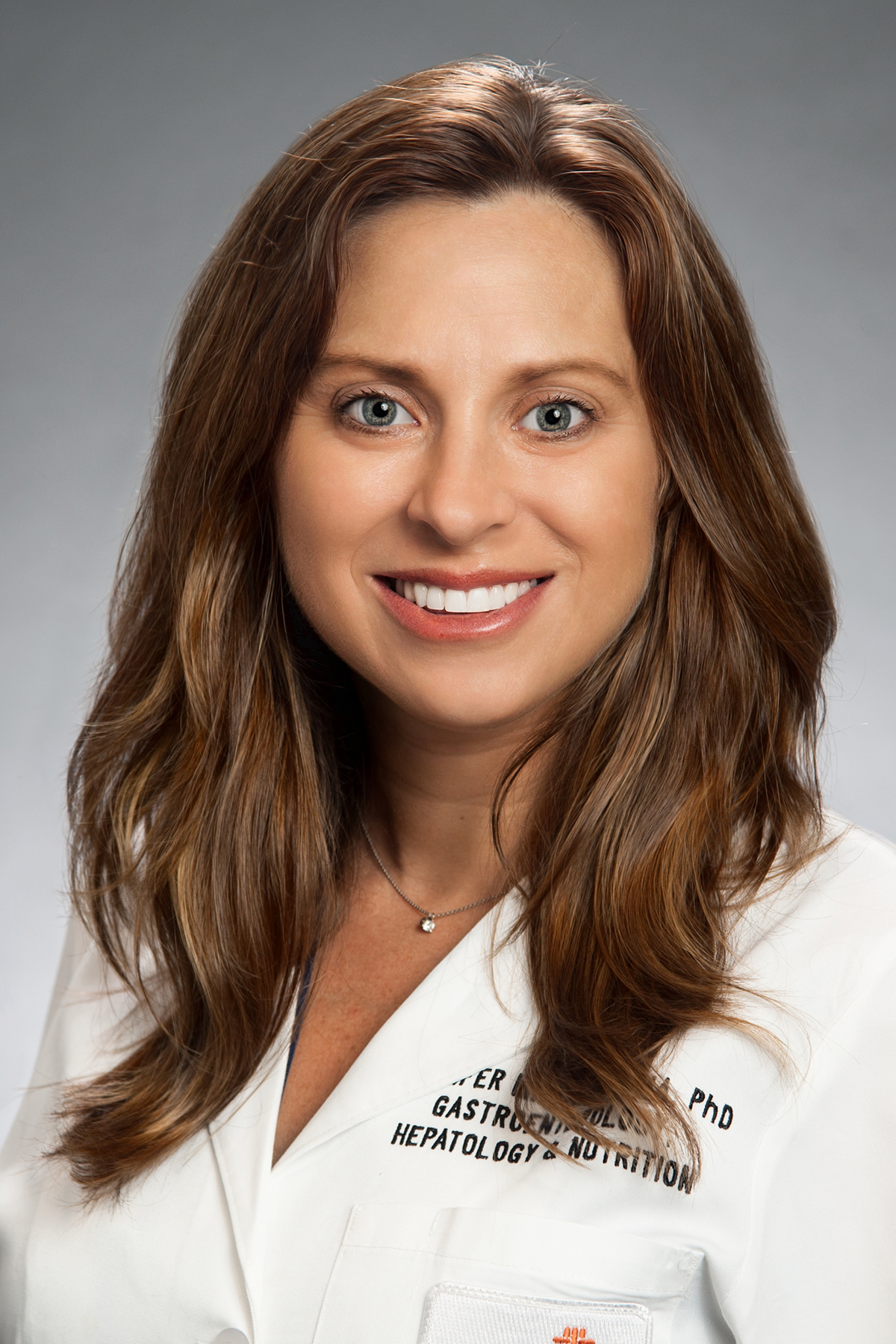 Jennifer M. Bailey, MA, PhD
Assistant Professor, Gastroenterology, Hepatology and Nutrition
Biography
Dr. Bailey joined McGovern Medical School at UTHealth in September of 2014 as an Assistant Professor in the Department of Internal Medicine, Division of Gastroenterology, Hepatology and Nutrition. She joins the department after completing her postdoctoral fellowship at Johns Hopkins University.
Dr. Jennifer Bailey earned her B.S. in Molecular Biology from the University of Nebraska-Lincoln in 2002, where she studied the role of algal lipopolysaccharides on the innate immune system in the Laboratory of Professor Ted Pardy. As an undergraduate student she also worked with Professor Bill Tapprich at the University of Nebraska-Omaha, where she studied the RNA structure of viral IRES elements and completed her M.A. in Biochemistry in 2004. While completing her degree, she was accepted as a summer fellow at the National Institutes of Health where she worked in the lab of Dr. Steven Jacobson. She then went on to pursue her Ph.D. in Cancer Research from the Eppley Institute at the University of Nebraska Medical Center in the Laboratory of Professor Tony Hollingsworth. Her dissertation work focused on mechanisms regulating pancreatic cancer progression and metastases. This research effort included the fundamental observation that hedgehog ligands regulate desmoplasia in pancreatic cancer.
After completing her Ph.D. in 2009, she moved to Johns Hopkins University School of Medicine to continue her work in pancreatic cancer. She joined the laboratory of Professor Steven Leach and studied mechanisms regulating pancreatic cancer regeneration and early neoplasia. Notably, during her postdoctoral studies, Dr. Bailey identified a putative cancer stem cell population present in preinvasive pancreatic cancer that has a gastrointestinal "tuft" cell morphology and is marked by Dclk1 and Acetylated α-tubulin.  She received an F32 Individual Postdoctoral Award from the National Cancer Institute to fund her work, and in 2011, Dr. Bailey was awarded the Pancreatic Cancer Action Network/AACR Pathway to Leadership Award.
She is a member of the American Association for Cancer Research, where she previously served on the Associate Member Council, the American Gastroenterological Association and the American Association for the Advancement of Science.
Education
Doctoral Degree

Cancer Research - The Eppley Institute, University of Nebraska Medical Center

Residency

Johns Hopkins University School of Medicine

Postdoctoral Degree

Johns Hopkins University School of Medicine
Publications