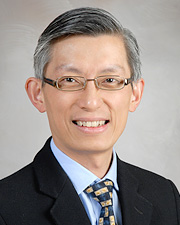 Associate Professor, Cardiovascular Medicine
Biography
Dr. Kee received his medical degree from the University of Adelaide in Australia and completed his clinical training in Internal Medicine and Cardiovascular Medicine at the Royal Adelaide Hospital in Australia. Under the mentorship of Prof. Philip Barter (previous Director of the Heart Research Institute in Sydney, Australia), he completed his PhD training in lipid metabolism. He received his advanced training in echocardiography at the Northwestern Memorial Hospital, Chicago and post-doctoral training in molecular imaging at the Feinberg School of Medicine, Northwestern University, Chicago. Dr. Kee is board certified in internal medicine, echocardiography and CT coronary angiography.
He is currently running the Advanced Cardiovascular Imaging and Experimental Therapeutics Laboratory with research support from the American Heart Association and the National Institute of Medicine. His current research projects include novel techniques for identifying biomarkers in association with atherosclerosis, new molecular imaging tracer design for non-invasive imaging of the vulnerable plaques and non-invasive imaging techniques to diagnose and monitor biomarkers of high-risk coronary lesions. He also maintains a colony of Watanabe Hereditary Hyperlipidemic (WHHL) rabbits, which is considered a useful pre-clinical model of atherosclerosis that resembles human atheroma.
He received two Young Investigator Awards in Australia and a Scientist Development Grant from the American Heart Association.
Education
Bachelor of Medicine, Bachelor of Science

University of Adelaide, Adelaide, Australia

Doctoral Degree

University of Adelaide, Adelaide, Australia

Residency

University of Adelaide, Adelaide, Australia

Fellowship

University of Adelaide, Adelaide, Australia
Areas of Interests
Clinical Interests
Non-invasive cardiovascular imaging, lipid management
---
Research Interests
Molecular imaging of atherosclerosis, vulnerable plaque pathology, animal models of atherosclerosis, lipoprotein metabolism, imaging contrast design
Publications
Board Certifications
American Board of Internal Medicine
Board Certified in Adult Comprehensive Echocardiography
Board of Echocardiography
Board Certified in Cardiovascular Computed Tomography