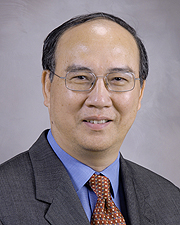 Professor, Cardiovascular Medicine
Biography
Dr. Yong-Jian Geng received his medical degree in 1982 from Suzhou Medical College, China, and his PhD in clinic chemistry in 1994 from Goethenburg University, Sweden. He completed his cardiology fellowship at the Brigham and Women's Hospital, Harvard Medical School in 1996. Following his fellowship, Dr. Geng was Assistant Professor of Medicine at the Allegheny University of Health Sciences in Pittsburgh.
In 1999, Dr. Geng joined the faculty here as an Assistant Professor of Medicine. In 2000 he was named Director of the Center for Cardiovascular Biology and Atherosclerosis Research, and in 2001, he was named Director of Stem Cells and Heart Failure Research at Texas Heart Institute. Dr. Geng was promoted to Professor of Medicine in 2005. Dr. Geng is a faculty member of the Graduate School for Biomedical Sciences, and has mentored numerous students.
Research in Dr. Geng's laboratory is aimed at delineating the molecular and cellular mechanisms underlying the pathogenesis of atherosclerosis and heart failure, and at developing new therapeutic approaches to treat cardiovascular diseases with means of molecular and cellular biology. A strong interest is to determine molecular regulation of proliferation, differentiation and death of cardiovascular cells under both physiological and physiological conditions. Current studies focus on identifying new genes that regulate apoptosis and caspase activities, analyzing new lipid-binding proteins in atherosclerosis, and developing transgenic and knockout murine models for atherosclerosis and heart failure. The lab also uses molecular biology and tissue engineering techniques to transplant fetal cardiac myoblasts and deliver new genes to the heart with ischemic injury.
Dr. Geng has received several awards including The First Award from the National Institutes of Health (1997); ARA Award from Parke-Davis/Pfizer Foundation (2000); and the Fourjay Foundation Cardiovascular Research Award (2001). Dr. Geng is an internationally recognized expert in stem cell research, and is a member of numerous research review committees, including those of the American Heart Association and the National Institutes of Health. He has served on the editorial boards of Circulation and Circulation Research, both journals of the American Heart Association.
Education
Medical Degree

Suzhou Medical College, China

Ph.D.

Gothenburg University, Gothenburg, Sweden

Residency

Qieryau Hospital, Jiangxi, China.

Fellowship

Unité de Recherche d'Immunopathologie des Maladies Tumorales et Autoimmunes (U291), Institut National de la Sante et la Recherche Medicale (INSERM), Montpellier, France

Fellowship

Harvard University School of Medicine, Boston, MA.
Publications
Certifications
BD FACS Aria operator
Flow cytometer specialist, certified by Beckton Dickinson
Biochemical pharmaceutical engineer, certified by the Society of Pharmacologists, Jiangsu, China