2022-2023 Internal Medicine Chief Residents
Message from the Chief Residents
Welcome!
Thank you for your interest in the Internal Medicine Residency Program at UT Health Sciences Center at Houston in the heart of Texas Medical Center. We are so excited to share our program with you and we hope you will find a home in the residency program here.
Based in the largest medical center in the world, we are a diverse and eclectic residency program with more than 60 residents in our PGY1 year including categorical, preliminary, and off-service trainees who come from all corners of the United States and the world. Despite the size, you will find that the interns, residents, faculty, and staff are all bonded together in our pursuit to deliver high-quality, effective healthcare and advance scientific endeavors. We share a passion for excellence of patient care regardless of social circumstances, a commitment to program diversity that reflects the population we serve, and a dedication to the wellness of our communities in Greater Houston and that of our residents.
We look forward to welcoming you to Houston, the Texas Medical Center, and to our family!
---
Steffi Hu
Where are you from?
Houston, TX 
Medical School
University of Texas Health Science Center at San Antonio
Why UTH?
There are so many reasons why I chose UTH! First, it is located in Houston, a city that I love for its cultural diversity, thriving food scene, and abundance of activity. Second, UTH is an incredible academic institution with limitless opportunities to pursue any academic interest. Third, UTH has a diverse patient population with an even more diverse set of disease pathologies, some that I had no idea even existed until I started residency! But most importantly, I chose UTH for its amazing community and culture of support. Residency can be challenging, but having a program that truly supports and listens to you as well as peers who always have your back, can really make all the difference. UTH is filled with people who are strong, kind, supportive, and brilliant, who go above and beyond and inspire me every day, which is why I am so happy that I chose UTH.
What are your interests outside of work?
Outside of work (and during work), I love to eat, eat and eat! The food here really is incredible; there is every type of cuisine you could imagine in every type of format, so I spend a lot of my time trying different restaurants and writing Yelp reviews. I also love traveling, binging TV shows, finding new board games, exploring new markets and pop-up events around town, walking my dogs in the park, and most recently, nurturing my baby house plants and building terrariums.
Future Plans?
After chief year, I plan to pursue a position as an academic hospitalist.
Pets?
Yes! I have two dogs — Pudding the poodle and Pinto the Australian shepherd. I got Pinto after my last ICU month of intern year, so it is definitely doable to have pets in residency!
---
Raamis Khwaja

Where are you from?
Aligarh, India
Medical School
University of Texas Southwestern Medical Center in Dallas, Texas
Why UTH?
UT Houston has a welcoming nature with personable faculty and residents, led by our wonderful program director, Dr. Jennifer Swails. I was drawn to the opportunity to learn at varied hospital sites, including a county hospital in LBJ and large academic medical center in Memorial Hermann. It can be rare to find the diversity of the patient population we take care of, and it is a real privilege to be involved in their care.
In addition, several mentors in medical school I looked up to had trained at UT Houston and imbibed the competent clinician with a great personality and care for their patients. I gravitated towards their style and am happy to train at the same place they once did. I also had an inclination that oncology may be my future profession, so having the chance to rotate and learn at MD Anderson was an added bonus. As a city, Houston has diverse cultural roots and an unparalleled cuisine.
What are your interests outside of work?
Anything sports related, especially if outdoors. Tennis, swimming have been staples in the past year, and I hope to get back into recreational team sports once it is safe to do so. On my off days, I enjoy being with my family, reading, exploring small business shops and attempting to keep my plants alive. I am also hoping to learn how to make traditional Mughlai cuisine (the best in the world), but for now am sticking to roasted vegetables.
Future Plans?
After completing chief year, I plan to apply for hematology/oncology fellowship. I also hope to make health care disparities and cancer epidemiology a long-term career focus.
Pets?
None yet. But I hope to have a cat in the future.
---
Darshan Patel
Where are you from?
Potomac, Maryland
Medical School
George Washington University School of Medicine
Why UTH?
I had grown around the Maryland/D.C. area ever since I moved to the US. Although we had few vacations around the country as I was growing up, it wasn't until residency interviews that I travelled the country and experienced the variety that is present. I was also looking for a large program with a variety of clinical experiences which UTH offered such as the busy community hospital LBJ, the VA hospital, Memorial Hermann Hospital in TMC, and specialty hospital M.D. Anderson. When I travelled to Houston, I instantly took a liking for the city. It is a cosmopolitan city with something for everyone. My interviews then sealed the deal for me. I felt welcomed at the program. I knew that this would be a program where I would receive a holistic medical education but I will also be supported in more than just my medical career. Looking back, it feels good to say that I made the right decision in choosing UTH.
What are your interests outside of work?
I took great interest in cooking and gardening during COVID. My Thai chili plant is a gift that keeps on giving. I also find it meditative to explore the city with biking along areas such as the Buffalo Bayou. If it is one of those days when its pouring in Houston, I enjoy reading books or watching movies involving sci-fi, war, dramas, action, or animations.
Future Plans?
Academic hospitalist in the near term. Even with three years there is so much medicine to see and learn!
Pets?
None, yet. My fiancé and I are open to suggestions. I always thought that having a ferret would be cool!
---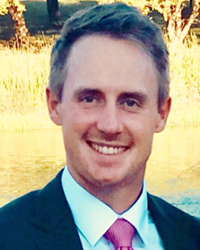 Nate Wilson
Where are you from?
O'Fallon, Illinois (I was a military kid and moved every couple of years growing up, but this is where my parents retired and have lived the longest).
Medical School
Rush Medical College
Why UTH?
I actually had never been to Texas prior to my interview day, and decided to apply to UTH on a whim. I'm SO glad that I did! During my interview, I could tell that this was a program where people truly care about and support one another. Dr. Swails and the program leadership genuinely care about each individual in this program both professionally and as a human being. Further, the Texas Medical Center allows for an unmatched clinical experience with diverse patients and unlimited resources for research, learning opportunities, and growth. It has also been a nice change in weather coming down to warm sunny Houston from freezing cold Chicago! I am extremely happy to say that this program has greatly exceeded the expectations I had back then on my interview day, and I am extremely grateful to have had the opportunity to train here in Houston.
What are your interests outside of work?
I am a huge fitness/sports junkie. I played football in college, and throughout medical school I worked as a personal trainer and assistant high school football and strength coach in the Chicago suburbs. This past year I decided to mix things up and run the Houston marathon (slowly but surely!). When I'm not in the gym, I love playing pickup sports with friends, going on hikes with my dog, and watching football in the fall (big Green Bay Packers fan). Beyond that, I have been trying to work my way through eating at as many of the amazing Houston restaurants as I can!
Future Plans?
After my year as a Chief Resident, I plan to pursue further fellowship training in hematology/oncology.
Pets?
I have a dog named Utah who I adopted my first year of medical school and we've been best buds ever since! He loves to go on walks, hikes, and cuddle with anyone who will let him.
---
Eric Yoon
Where are you from?
Houston, TX
Medical School
McGovern Medical School at UTHealth
Why UTH?
As I went to medical school at McGovern, I had the first-hand experience of knowing how great our residency program was firsthand during my 3rd and 4th year. Training in the world's largest medical center and in such a large international city, I was fortunate to be exposed to a myriad of unique pathologies. More importantly, I was able to witness how great the people were at our program while going through my IM rotations. From the residents, fellows, to attendings, everyone I met was so warm and welcoming. I was able to make so many lifelong friends during the past three years of my residency. In addition to our wonderful program, I found it challenging to leave the city of Houston! As a native Houstonian, my love for this city has been cultivated since birth. No matter what cuisine, from Ethiopian, to Chinese, to Tex-Mex, there is an authentic, world-class restaurant only a short drive away.
What are your interests outside of work?
I love food! Houston is one of the most diverse cities in the nation, and our food scene reflects that. All cuisines are represented in our city and there is a nearly endless list of restaurants I want to try! In addition to trying new foods throughout the city, I love to try and make the food myself at home, albeit with mixed results.
I also spend a lot of time being a nerd; I enjoy games of all kinds and have been busy keeping up with all the content Marvel has been creating out through their various mediums. At least once a month, I love attending a board game night with friends and coworkers playing a myriad of random board games!
Future Plans?
After completing chief year, I plan to pursue fellowship training in Gastroenterology and hopefully Transplant Hepatology after that!
Pets?
I have two wonderful cat brothers, Leo and Ollie that I adopted right before the start of intern year! I also have a balcony full of plants that I am desperately trying to get through the crazy Texas summer heat.