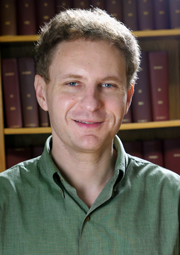 Rochelle and Max Levit Distinguished Professor in the Neurosciences, Neurobiology & Anatomy
Biography
Cortical Mechanisms Of Visual Behavior
Our perception of the environment relies on the transformation of physical signals, such as light, into neural impulses. These impulses are successively transmitted to different brain regions, where they are further transformed into new patterns of sensory impulses that ultimately control behavior. The accuracy with which the brain transforms, or encodes, external stimuli into patterns of neural impulses determines the accuracy of behavioral responses. Although we know a great deal about the transformations that occur at the single neuron level, the way in which neuronal populations encode information has rarely been investigated experimentally. Indeed, despite the growing interest in population coding, exactly how cortical networks encode external stimuli to influence the accuracy of behavioral responses has been mainly explored at the theoretical level. However, this issue is important – it is well accepted that the brain uses representations of environmental stimuli to produce behavior by encoding information in population activity based on the responses of individual neurons.
My laboratory is currently engaged on several lines of research to understand how individual neurons and networks in the visual cortex of behaving monkey construct real-time representations of incoming stimuli, how internal representations are updated as new information is acquired, and how image representations relate to visual behavior. To achieve this goal, we employ state-of-the-art electrophysiological and behavioral techniques that allow us to record simultaneously the activity of multiple neurons in the visual cortex of alert monkeys during specific behavioral tasks, in combination with computational models of network function to understand how neural circuits produce emergent properties relevant for visual behavior.
We believe that our research on the neural coding of dynamic image representations has the potential to advance our understanding of the neuronal mechanisms underlying visual perception and learning, and, at the same time, help develop chronically-implantable human cortical prostheses to assist visually impaired people.
Research Information
Publications
Publication Information
Dragoi, V, Sharma, J, Sur, M. (2000) Adaptation-induced plasticity of orientation tuning in adult visual cortex. Neuron. 28, 287-298.
Dragoi, V, Sur, M. (2000) Dynamic properties of recurrent inhibition in primary visual cortex: Contrast and orientation dependence of contextual effects. Journal of Neurophysiology, 83, 1019-1030.
Dragoi, V, Turcu, CM, Sur, M. (2001) Stability of cortical responses and the statistics of natural scenes. Neuron, 32, 1181-1192.
Dragoi, V, Rivadulla, C, Sur, M. (2001) Foci of orientation plasticity in visual cortex. Nature, 411, 80-86.
Dragoi, V, Sharma, J, Miller, EK, Sur, M. (2002) Dynamics of neuronal sensitivity in visual cortex and local feature discrimination. Nature Neuroscience, 5, 883-891.
Sharma, J, Dragoi, V, Tenenbaum, J, Miller, EK, Sur M. (2003) V1 neurons signal acquisition of an internal representation of stimulus location. Science, 300, 1758-1763.
Jin, D., Dragoi, V., Sur, M., and S. Seung (2005). The tilt aftereffect and adaptation-induced changes in orientation tuning in visual cortex. Journal of Neurophysiology,94, 4038-4050.
Dragoi, V, Sur, M. (2006) Image structure at the center of gaze during free viewing. Journal of  Cognitive Neuroscience, 18, 737-748.
Chelaru, MI, Dragoi, V. (2007) Asymmetric synaptic depression in cortical networks. Cerebral Cortex [Epub ahead of publication].
Gutnisky, D, Dragoi, V. (2008) Adaptive coding of visual information in neural populations. Nature, 452, 220-224.
Chelaru M. I. and V. Dragoi (2008). Efficient coding in heterogeneous neuronal populations. Proc. Natl. Acad. Sci. USA, 105, 16344-16349.
Gutnisky D, Hansen B, Iliescu B, and V. Dragoi (2009). Attention limits plasticity of visual processing during exposure-based learning. Current Biology, 19, 555-560.
Hansen BJ, Eagleman S, Dragoi V. (2011) Examining Local Network Processing using Multi-contact Laminar Electrode Recording. J Vis Exp. Sep 8;(55). pii: 2806. doi: 10.3791/2806.
Wang Y, Iliescu BF, Ma J, Josic K, Dragoi V. (2011) Adaptive changes in neuronal synchronization in macaque v4. J Neurosci. Sep 14;31(37):13204-13.
Hansen BJ, Dragoi V. (2011) Adaptation-induced synchronization in laminar cortical circuits. Proc Natl Acad Sci U S A. Jun 28;108(26):10720-5. Epub Jun 9.
Hansen BJ, Chelaru M, and Dragoi V (2012). Correlated variability in laminar cortical circuits. Neuron, 76, 590-602.
Eagleman SL and Dragoi V (2012). Image sequence reactivation in awake V4 networks. Proc Natl Acad Sci U S A. 109: 19450-5.