Neurologists awarded NIH grants to explore causes of brain bleeds, dementia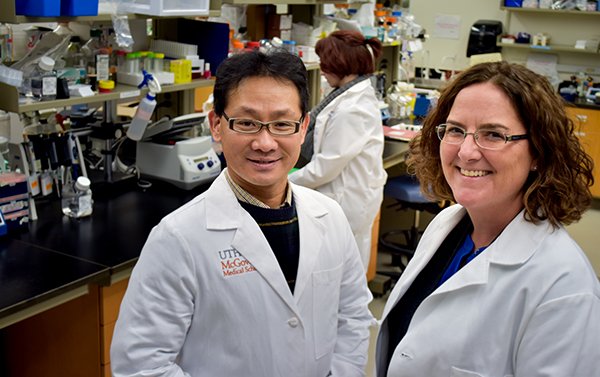 (working on new treatments for stroke at UTHealth are Akihiko Urayama, Ph.D., and Louise McCullough, M.D., Ph.D. PHOTO CREDIT: Maricruz Kwon, UTHealth)
---
Researchers at McGovern Medical School have been awarded grants from the National Institutes of Health (NIH) to explore how the buildup of protein deposits in the brain can trigger dementia and stroke.
Louise McCullough, M.D., Ph.D., professor and Roy M. and Phyllis Gough Huffington Distinguished Chair in the Department of Neurology, and Robert Bryan, Ph.D., of Baylor College of Medicine, were awarded a $3.7 million grant to study the gut-brain connection in dementia and aging.
Akihiko Urayama, Ph.D., assistant professor of neurology, received $2.2 million to examine the brain's clearance system.
For more information, please visit: https://med.uth.edu/news/2018/04/17/neurologists-awarded-nih-grants-to-explore-causes-of-brain-bleeds-dementia/