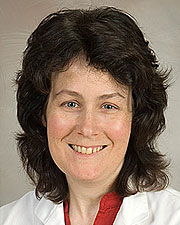 Biography
Dr. Varner is an Assistant Professor in the Department of Neurology at McGovern Medical School at UTHealth. Treating patients in the clinical setting is her primary focus but she is also involved in dysautonomia research. She performs neurological evaluations and provides her patients with specialized treatment for headaches, migraines, trigeminal neuralgia, Chiari malformation, syncope, dizziness, and dysautonomia, She is also an experienced provider of EMG testing, a diagnostic tool for patients exhibiting symptoms of a neuromuscular disorder or peripheral nervous system disease.
In 2015, Dr. Varner presented at the Children's Memorial Hermann Hospital Dysautonomia Seminar. In addition, she has twice received the McGovern Medical School Dean's Excellence in Teaching Award for her outstanding achievements in training the next generation of care providers.
Dr. Varner is a member of the McGovern Medical School Dysautonomia Center of Excellence as well as the American Academy of Neurology, the American Clinical Neurophysiology Society, and the American Autonomic Society.
Education
Medical Degree

Texas Tech University Health Sciences Center School of Medicine, Lubbock, Texas

Residency

Neurology, The University of Texas Health Science Center at Houston, Houston, Texas

Fellowship

Neuromuscular, The University of Texas Health Science Center at Houston, Houston, Texas
Areas of Interest
Clinical Interests
Diagnostic Neurology
Electromyography
Additional Information
Board Certifications
American Board of Psychiatry and Neurology
Subspecialty Board in Neurophysiology
American Society of Neuroimaging MRI/CT