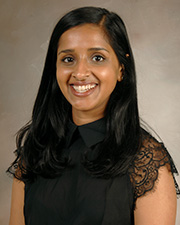 Rohini D. Samudralwar, MD
Assistant Professor
Head, Neuroinflammatory Diseases Section
Associate Program Director, Neurology Residency Program
Multiple Sclerosis
Neuroimmunology
Biography
Dr. Rohini Samudralwar is an Assistant Professor in the Division of Multiple Sclerosis and Neuroimmunology, part of the Department of Neurology at McGovern Medical School at McGovern Medical School at the University of Texas Health Science Center at Houston (UTHealth). She received her medical degree in Philadelphia at Drexel University College of Medicine and Neurology training at Baylor College of Medicine. Her sub-specialty training in Neuroimmunology was at Washington University in St. Louis where she developed her expertise in Multiple Sclerosis, Neurosarcoidosis, and Neuro-infectious Diseases.
She currently works both in the medical center as well as in the Harris Health System at Smith Clinic, focusing her clinical efforts on all forms of neuroimmunological diseases. Her research focuses on the relationship between inflammatory markers and hormonal changes in Multiple Sclerosis as well as system based studies in Autoimmune Encephalitis and Neurosarcoidosis. She is the designated neurologist, part of a multi-disciplinary group of physicians, that make up the UT Sarcoidosis Clinic recognized by WASOG.
Education
Undergraduate Degree

Drexel University, Pennoni Honors College, Philadelphia, PA

Medical Degree

Drexel University College of Medicine, Philadelphia, PA

Internship

Internal Medicine, Baylor College of Medicine, Houston, TX

Residency

Neurology, Baylor College of Medicine, Houston, TX

Fellowship

Neuroimmunology and Neuroinfectious Diseases, Washington University, St. Louis, MO

Graduate Certificate in Clinical Investigation

Washington University in St. Louis, St. Louis, MO
Areas of Interest
Clinical Interests
Neurosarcoidosis
Neuroinfectious Diseases and global health
MS/NMO
---
Research Interests
Multiple Sclerosis
Neurosarcoidosis
Autoimmune Encephalitis
Publications
Publication Information
1. Samudralwar RD, Cross AH. Fingolimod and Cryptococcosis: The Interaction Between Immunomodulation and Infectious Disease. The Consortium for Multiple Sclerosis Centers. 2018.
2. Samudralwar RD, Goss A, Rimmer K, Shetler K, Navis A, Siddiqi O, Chin JH, Thakur K. Resident and Fellows Section- International Issues: A Guide to U.S. Academic Global Health Programs in Neurology. Neurology. 2018;90: 662-665.
3. Chiang S, Kesari NK, Bradshaw A, Chen W, Samudralwar R, Alobaidy AM, Kass JS. Pearls & Oy-sters: CNS lymphoma in a patient with relapsing-remitting multiple sclerosis treated with interferon. Neurology. 2017 Oct 24;89(17):e210-3. PMID: 29061682
4. Samudralwar RD, Van Hook C, Kass JS. Chapter 25: Infectious Diseases, Including HIV. In: Kass JS and Mizrahi E, editors. Neurology Secrets, 6th Ed. Philadelphia: Elsevier; 2016. P. 353-368.
5. Samudralwar RD and Kass JS. Chapter 11: Neurologic Manifestations of HIV Infections. In: Shandera WX, editor. The Sub-Specialty Care of HIV-Infected Patients, 1st Ed. New York: Nova Science Publishers, Inc; 2018. P.239-248