Yazan J. Alderazi, MD
Neurologist
Assistant Professor
Department of Neurology
McGovern Medical School, UTHealth
Yazan J. Alderazi, MD, is fellowship trained in endovascular surgical neuroradiology, neurocritical care and vascular neurology. His practice encompasses the full spectrum of neurointerventional procedures in the brain, spine, head and neck; with a focus on brain aneurysms, arteriovenous malformations, carotid stenosis and stroke.
Dr. Alderazi received his medical degree with honors from the Royal College of Surgeons in Ireland. Subsequently, he completed residency in neurology at the Barrow Neurological Institute where he also served as chief resident. He then completed fellowships in vascular neurology at University of Texas at Houston, neurocritical care at the University of Miami and endovascular surgical neuroradiology at Rutgers University.
Prior to returning to Houston, Dr. Alderazi established and directed the neurointerventional surgery program at Texas Tech University-University Medical Center at Lubbock. This was the first center in the region to deliver organized neuroendovascular treatment of stroke, and became the busiest in West Texas for neurointerventional procedures. He also established the clinical neuroimaging service giving patients access to 3T MRI technology for the first time in the region.
Dr. Alderazi returns to the University of Texas Health Science Center at Houston to expand the cerebrovascular and neuroendovascular services. He is currently an assistant professor of neurology at McGovern Medical School at The University of Texas Health Science Center at Houston (UTHealth).
Education/Training
Medical School
The Royal College of Surgeons in Ireland, 2005
Internship
Boston University School of Medicine , 2008
Internship
Beaumont Hospital, Dublin, 2007
Residency
Barrow Neurological Institute, 2011
Fellowship
UMDNJ- Rutgers Medical School, 2015
Fellowship
University of Miami School of Medicine, 2013
Fellowship
The University of Texas Health Science at Houston, 2012
Board Certification
American Board of Psychiatry and Neurology
Vascular Neurology
General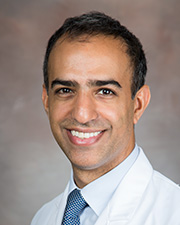 Dr. Alderazi Sees Patients at:
9180 Pinecroft, Suite 500
Shenandoah, TX 77380
Phone: (713) 897-5900
Fax: (713) 897-2545