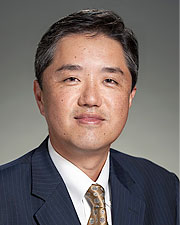 Professor, Vivian L. Smith Department of Neurosurgery
(713) 486-8000
(713) 486-8088
Senior Executive Assistant
Roxane Perez
(713) 500-6170 Assistant

Biography
Dr. Dong Kim serves as Professor of The Vivian L. Smith Department of Neurosurgery at The University of Texas Health Science Center at Houston (UTHealth) Medical School. Dr. Kim is also the former Chair of the Department, which he led from 2007 to 2021.
After attending college at Stanford University, he attended medical school at the University of California, San Francisco (UCSF) Medical School. He underwent training in general surgery at Harvard University, followed by an internship at Harvard University. He completed his residency at UCSF and went on to a fellowship at the University of Florida. He is board certified by the American Board of Neurological Surgery and a member of The Society of Neurological Surgeons.
Dr. Kim joined the Mischer Neuroscience Institute in October 2007, where he served as Director until 2021. He has also held faculty and hospital appointments at Harvard Medical School, Brigham and Women's Hospital, the Dana-Farber Cancer Institute, Cornell University Medical College, The New York Hospital and Memorial Sloan Kettering Cancer Center.
Board Certifications
Diplomat, American Board of Neurological Surgery
Education
Graduate School

University of California, San Francisco, San Francisco, California

Internship

Harvard University, Cambridge, Massachusetts

Residency

University of California, San Francisco, San Francisco, California

Fellowship

University of Florida, Gainesville, Florida (Cerebrovascular Surgery and Skull Base Tumors)
Areas of Interest
Clinical Interests
Brain Aneurysms, AVMs, Brain Tumors, Meningioma, Neuro Oncology, Trigeminal Neuralgia, Chiari Malformation
Publications
Publication Information
Kim, DH and Kulick, MI: An in vivo- in vitro investigation of the effect of steroidal and non-steroidal anti-inflammatory agents on collagen synthesis. Surgical Forum. 36:1985.
Kim DH, Fields HL, Barbaro NM: Morphine analgesia and acute physical dependence: rapid onset of two opposing, dose-related processes. Brain Res. 516:37-40, 1990.
Kim DH, Mohapatra G, Bollen A, Waldman FM, Feuerstein BG: Chromosomal abnormalities in glioblastoma multiforme and glioma cell lines detected by comparative genomic hybridization. Int J Cancer. 60:812-815, 1995.
Mohapatra G, Kim DH, Feuerstein BG: Detection of multiple gain and losses in ten glioma cell lines by comparative genomic hybridization. Genes, Chrom, Cancer. 13:86-93, 1995.
Kim DH, Gutin P, Noble LJ, Nathan D, Ross G, Yu JS, Nockels RN: Genetically engineered fibroblasts secreting nerve growth factor or brain-derived growth accelerates recovery from acute, traumatic spinal cord injury in the rat.  Neuroreport. 7:1996.
Mohapatra G, Moore DH, Kim DH, Grewal L, Hyun WC, Waldman F, Pinkel D, Feuerstein BG: Analyses of brain tumor cell lines confirm a simple model of relationships among fluorescence in situ hybridization, DNA index, and comparative genomic hybridization. Genes, Chrom, Cancer. 20(4): 311-9, 1997.
Mautes AEM, Kim DH, Sharp FR, Panter S, Sato M, Maida N, Bergeron M, Guenther K, Noble LJ: Induction of heme-oxygenase-1 (HO-1) in the contused spinal cord of the rat. Brain Research. 795(1-2):17-24, 1998.
Nates J, Aristizabal J, Kim DH, Fife C: Venous air embolism during supine craniotomy for aneurysm: role of hyperbaric oxygen therapy. Int J Anesthesiology. 4(2):2000.
Morgenstern LB, Demchuk AM, Kim DH, Frankowski RF, Grotta JC: Rebleeding leads to poor outcome in ultra early craniotomy for intracerebral hemorrhage. Neurology. 56 (10):1294-9, 2001.
Kim DH, Van Ginhoven G, Milewicz DM: The incidence of familial intracranial aneurysms in 200 patients: comparison between Caucasian, African-American, and Hispanic populations. Neurosurgery. 53(2):303-8, 2003.
Kim DH, Mathew J, Ziadi S, Nates J, Dannenbaum M, Malkoff M: Increased cardiac output or mean arterial pressure, but not hypovolemia, can reverse the decrease in CBF from vasospasm following subarachnoid hemorrhage. Neurosurgery. 53(5):2003.
Yeh P, Kim DH, Nates JL: Nails in the posterior fossa. The Int J of Emerg and Intensive Care Medicine. 5(1):89-97, 2004.
Kim DH, Tu C, Cassacia-Bonnefil P, Chao M: The neurotrophins prevent apoptotic but not necrotic cell death following neuronal injury by signaling through the trk receptor. J Neurosurg. 100:79-87, 2004.
Pannu H, Kim DH, Seaman R, Van Ginhoven G, King T, Vollmer DG, Shete SS, Milewicz DM: The ACE insertion/deletion polymorphism is not associated with intracranial aneurysms in a U.S.-derived Caucasian population. J Neurosurg. 103(1):92-6, 2005.
Kim DH, Haney CL, Van Ginhoven G: Reduction of pulmonary edema after SAH with a Pulmonary-Artery Guided Hemodynamic Management Protocol. Neurocrit Care. 3(1):11-15, 2005.
Kim DH, Van Ginhoven G, Milewicz DM: Familial aggregation of both aortic and cerebral aneurysms: evidence for a common genetic basis in a subset of families. J

Neurosurg.

56:655-61, 2005.
Kim DH, Haney CL, and Van Ginhoven G: Measures of outcome following surgical clipping of cerebral aneurysms: an analysis of 520 cases. Stroke. 36(4):792-6, 2005.
Kim DH, Zhao X. BDNF protects neurons following injury by modulation of caspases. Neurocrit Care. 3(1):71-6, 2005.
Pannu H*, Kim DH*, King T, Guo D, Shete S, Van Ginhoven G, Chin T, Chang K, Oi Y, Milewicz DM (*Authors' contributions equal): Association of MMP2 and MMP9 polymorphisms with intracranial aneurysms. J Neurosurg. 105(3):418-23, 2006.
Chumnanvej S, Dunn I, Kim DH: Three-Day Phenytoin Prophylaxis is Adequate Following Subarachnoid Hemorrhage. Neurosurgery. 60(1), 2007.
Krishna V, Kim DH: Ethnic Differences in Risk Factors for Subarachnoid Hemorrhage. J Neurosurg. 107(3):522-9, 2007.
Avidan N, Tran-Fadulu VT, Chen JH, Yu RK, Mathew S, Pannu H, Guo DC, Yuan J, Stankiewicz P, Yatsenko SA, Ahn C, Braverman AC, Willing MC, Abuelo D, Kim DH, Shete S, Milewicz DM: A Novel Locus for Familial Thoracic Aortic Aneurysms and Dissection Mapped to 15q24-26 (TAAD3): Locus Specific Phenotypes for Familial Aortic Disease.  Circulation.  In press.
Guo DC, Pannu H, Tran-Fadulu VT, Papke C, Yu RK, Avidan N, Divecha D, Scherer S, Estrera A, Safi H, Vick III GW, McConnell V, Marian AJ, Kim DH, Tung PP, Buja LM, Rama CS, Shete S, Milewicz DM: Mutations in genes encoding smooth muscle contractile proteins, ACTA2 and MYH11, cause hyperplastic vasculomyopathy and lead to diffuse and diverse vascular diseases. Nature Genetics. 39:1488-93, 2007.
Santiago-Sim T, Depalma SR, Ju KL, McDonough B, Seidman CE, Seidman JG, Kim DH:  Genomewide linkage in a large Caucasian family maps a new locus for intracranial aneurysms to chromosome 13q. Stroke. 40[suppl 1] S57-S60, 2009.
Guo DC, Papke CL, Tran-Fadulu V, Regalado ES, Avidan N, Johnson RJ, Kim DH, Pannu H, Willing MC, Sparks E, Pyeritz RE, Singh MN, Dalman RL, Grotta JC, Marian AJ, Boerwinkle EA, Frazier LQ, LeMaire SA, Coselli JS, Estrere AL, Safi HJ, Veeraraghavan S, Munzy DM, Wheeler DA, Willerson JT: Mutations in smooth muscle alpha-actin (ACTA2) cause coronary artery disease, stroke, and Moyamoya disease, along with thoracic aortic disease.  Am J. Hum Genet. 84(5):617-27, 2009.
Tran-Fadulu V, Pannu H, Kim DH, Vick GW 3rd, Lonsford CM, Lafont AL, Boccaladro C, Smart S, Peterson KL, Hain JZ, Willing MC, Coselli JS, LeMaire SA, Ahn C, Byers PH, Milewicz DM: Analysis of multigenerational families with thoracic aortic aneurysms and dissections due to TGFBR1 or TGFBR2 mutations. J Med Genet. 46(9):607-13, 2009.
Xiaoxin C, Yaping W, Qian H, Yiyan Z, Dong K, Scott W, Qilin C:  Astrocytes from the contused spinal cord inhibit oligodendrocyte differentiation of adult OPCs by increasing the expression of bone morphogenetic proteins. J Neuroscience. 31(16):6053-8, 2011.
Milewicz DM, Østergaard JR, Ala-Kokko LM, Khan N, Grange DK, Mendoza-Londono R, Bradley TJ, Olney AH, Adès L, Maher JF, Guo D, Buja LM, Kim DH, Hyland JC, Regalado ES: De novo ACTA2 mutation causes a novel syndrome of multisystemic smooth muscle dysfunction. Am J. Hum Genet. Part A(152A):2437–43, 2010.
Cao Q, He Q, Wang, Yaping, Cheng, Xiaoxin, Howard, Russell M., Zhang, Yiping, DeVries, William H., Shields CB, Magnuson DSK, Xu X, Kim D, Whittemore SR: Transplantation of Ciliary Neurotrophic Factor-Expressing Adult Oligodendrocyte Precursor Cells Promotes Remyelination and Functional Recovery after Spinal Cord Injury.  J Neuroscience. 30(8):2989-3001, 2010.
Li J, Ka B, Zhang A, Kim DH, Ashley W, Nath R, McCutcheon I, Fang B, Murad Ferin: Targeting different types of human meningioma and glioma cells using a novel adenoviral vector expressing GFP-TRAIL fusion protein from hTERT promotor.  Cancer Cell International. 11(1):35, 2011.
Li J, Bian K, Kim DH, Ashley WW, Nath R, McCutcheon I, Fang B, Murad F:  Targeting different types of human meningioma and glioma cells using a novel adenoviral vector expressing GFP-TRAIL fusion protein from hTERT promoter. Cancer Cell International.  11(35): 2011.
Khursheed F, Rohlffs F, Suzuki S, Kim DH, Ellmore T:  Artifact quantification and tractography from 3T MRI after placement of aneurysm clips in subarachnoid hemmorhage patients. BMC Medical Imaging. 11(19): 2011.
Chao D, He X, Yang Y, Balboni G, Salvadori S, Kim DH, Xia Y:  Hydrogen sulfide induced disruption of Na homeostasis in the cortex. Toxicological Sciences. 128 (1):198-208, 2012.
He X, Sandhu HK, Yang Y, Hua F, Beiser N, Kim DH, Xia Y:  Neuroprotection against hypoxia/ischemia:  o-opoid recepter-mediated cellular/molecular events.  Cellular and Molecular Life Sciences. 70(13):2291-303, 2013.
Lin Y, Chen Y, Wang Y, Yang J, Zhu V, Cui X, W Yan, Jiang T, Fletcher S, Levine J, Kim DH, Tandon N, Zhu J, Li M: ZIP4 is a Novel Molecular Marker for Glioma. Neuro-Oncology. 15(8): 1008-16, 2013.
He XZ, Yang YL, Zhi F, Moore ML, Kang XZ, Chao DM, Wang R, Balboni G, Salvadori S, Kim DH, Xia Y: δ-Opioid receptor activation modified microRNA expression in the rat kidney under prolonged hypoxia. Plos One. 8(11): 2013.
Savarraj J, Parsha K, Bajgur S, Espino E, Torres G, Chang T, Edwards N, Hergenroeder G, Kim DH, Lee K, Savitz S, Liu Y, Choi HA: Characterizing The Immune Response After SAH Using Network Analysis. Neurocritical Care (forthcoming): 2015.
Santiago-Sim T, Fang X, Hennessy M, Nalbach S, DePalma S, Lee MS, Greenway S, McDonough B, Hergenroeder G, Patek K, Colosimo S, Qualmann K, Milewicz D, MacRae C, Dymecki S, Seidman C, Seidman JG. Kim DH: Mutations in THSD1 as a Cause of Intracranial Aneurysm. New England Journal of Medicine (forthcoming):2015.
Gormley WB, Hergenroeder GW, Smith TR, Dasenbrock HH, Kim DH: Variance reduction in Neurosurgical Practice: Use of an Evidence-Based Informatics System for Improving Quality and Safety Outcomes. Journal of Neurosurgery (forthcoming): 2015
Li, S, Xue, H, Wu JB, Rao, MS, Kim, DH, Deng, W, and Liu, Y: Human iPSC NEUROG2 dual knockin reporter lines generated by the CRISPR/Cas9 system. Stem Cells Dev. In Press. 2015
Book Chapters
Kim DH, Mohapatra G, Feuerstein BG: Genetic tumor markers in gliomas. In Berger M, Wilson CB (Eds.) Textbook of Gliomas, 1998.
Kim DH, MacDonald J, Day AL: Approaches to terminal basilar bifurcation aneurysms. In: Kaye A, Black P (Eds.) Operative Neurosurgery, 1999.
Kim DH: Pathobiology of Intracranial Aneurysms. In: Winn RH (Ed.) Youmans Neurological Surgery, 2011.