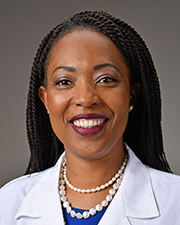 Clinical Assistant Professor, Department of Obstetrics, Gynecology, & Reproductive Sciences
Biography
Dr. Nwanyieze Amajoh believes in a collaborative approach to health care. She encourages her patients to be more involved and active in their treatment plan. By building lifelong relationships with her patients and their families, she is able to personalize each treatment based on the patient's lifestyle and needs.
She maintains an active membership in the Harris County Medical Society to help support advocacy efforts for health care.
When not seeing patients, Dr. Amajoh enjoys dancing, reading and spending time with her family.
Education
Residency

University of Texas at Houston, Memorial Hermann Hospital Department of Obstetrics, Gynecology, & Reproductive Sciences (Houston, Texas)

Medical School

Wright State University School of Medicine (Dayton, Ohio)

Undergraduate

University of Miami - Bachelor of Science, Biology (Miami, Florida)
Areas of Interest
Clinical Interests
Dr. Amajoh's clinical interests include adolescent gynecology, fibroids, general obstetrics and gynecology, minimally invasive surgery, and breastfeeding