Dr. Garvin H. Davis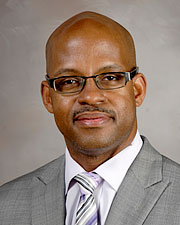 Dr. Davis is the director of retina service and surgery at the Cizik Eye Clinic. He joined the McGovern Medical School at UTHealth in 2009, after spending five years at University of Texas Medical Branch.
He grew up in Louisiana and earned an undergraduate degree in electrical engineering from Massachusetts Institute of Technology. In 1998, he graduated from Johns Hopkins University School of Medicine, where he also earned a master's degree in public health.
Dr. Davis completed his residency at the Wills Eye Hospital at Jefferson University in 2002 and his fellowship in vitreoretinal disease and surgery at Baylor College of Medicine in 2004.
At the Cizik Eye Clinic, Dr. Davis can combine his passions for patient care and medical technology application. He was involved, for example, in surgically implanting the first FDA-approved retinal implant to restore some sight for a patient with genetic vision loss.
He has also served as the president of the Houston chapter of the National Medical Association, an organization dedicated to promoting physicians and patients of African descent.
His patients commonly praise his engaging and personable manner.
Contact Us
At Robert Cizik Eye Clinic, we offer patients access to highly specialized eye and vision care. To ask us a question, schedule an appointment, or learn more about us, please call (713) 486-9400, or click below to send us a message. In the event of an emergency, call 911 or go to the nearest Emergency Room.