Dr. Robert M. Feldman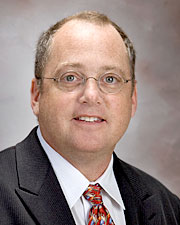 Dr. Feldman is a board-certified ophthalmologist at the Cizik Eye Clinic, who treats some of the most difficult adult and pediatric glaucoma cases. He holds the Richard S. Ruiz Distinguished University Chair at the McGovern Medical School, where he has been a faculty member since 1995. He also serves as chair for the Department of Ophthalmology and Visual Science.
He graduated from Chicago Medical School in 1986 and completed his residency at the University of California at San Diego in 1992. He completed his fellowship in glaucoma at Baylor College of Medicine in 1993.
He has been consistently recognized for his achievements as a teacher, researcher, and practitioner, including earning the American Academy of Ophthalmology's Achievement Award. His research body and clinical trials have examined new surgeries, drug regimens, and other treatment options for glaucoma and cataracts.
Dr. Feldman strives to provide unparalleled care and the best possible outcomes. His patients appreciate his ability to diagnose conditions that remained undiagnosed elsewhere and his dedication to use minimally invasive procedures when possible. He also prioritizes raising public awareness to eye health issues so that patients seek treatment earlier.
He treats people of all ages and speaks English and Spanish.
Contact Us
At Robert Cizik Eye Clinic, we offer patients access to highly specialized eye and vision care. To ask us a question, schedule an appointment, or learn more about us, please call (713) 486-9400, or click below to send us a message. In the event of an emergency, call 911 or go to the nearest Emergency Room.