Dr. Robert W. Butner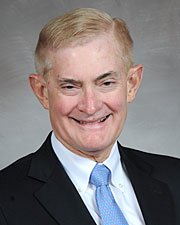 Dr. Butner is a board-certified ophthalmologist at the Cizik Eye Clinic, where he has practiced since 2002. He is also a clinical assistant professor in the Department of Ophthalmology and Visual Sciences at the McGovern Medical School.
His areas of clinical interest include retinal disease, macular degeneration, diabetic retinopathy, retinal vein occlusion, and international ophthalmology.
Dr. Butner graduated from Johns Hopkins University School of Medicine in 1968. He then went to Baylor College of Medicine, where he completed his residency in 1975 and a fellowship in retinal surgery in 1976.
Prior to joining UTHealth, Dr. Butner spent three decades as a surgeon in the U.S. Air Force, where he was also a master parachutist, and another 13 years as a surgeon with the Texas State Guard.
His patients commend his expertise, conscientiousness, and trustworthiness.
Contact Us
At Robert Cizik Eye Clinic, we offer patients access to highly specialized eye and vision care. To ask us a question, schedule an appointment, or learn more about us, please call (713) 486-9400, or click below to send us a message. In the event of an emergency, call 911 or go to the nearest Emergency Room.