Dr. Shazia F. Ali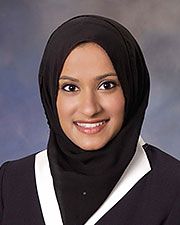 Dr. Ali is a pediatric ophthalmologist at the Cizik Eye Clinic, an assistant professor in the Ruiz Department of Ophthalmology and Visual Science, and Director of Medical Student Education.
Dr. Ali specializes in cornea and external eye disease. Her clinical interests also include pediatric trauma, pediatric glaucoma, complex cataract, corneal transplants, pediatric and adult strabismus, and pediatric and adult anterior segment disease.
She graduated medical school from Baylor College of Medicine in 2013 and completed her residency in ophthalmology there in 2017. She completed a fellowship in pediatric ophthalmology and strabismus at Texas Children's Hospital in 2018 and a fellowship in cornea and external eye disease at the McGovern Medical School at UTHealth in 2019.
Dr. Ali brings a kind, compassionate approach to her clinical practice.
Contact Us
At Robert Cizik Eye Clinic, we offer patients access to highly specialized eye and vision care. To ask us a question, schedule an appointment, or learn more about us, please call (713) 486-9400, or click below to send us a message. In the event of an emergency, call 911 or go to the nearest Emergency Room.