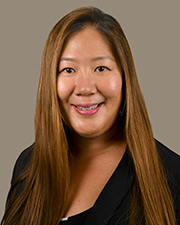 Contact
713.486.7500

Biography
Dr. Yvette Ho is an Assistant Professor in the Department of Orthopedic Surgery at McGovern Medical School at UTHealth Houston.
Certified by the American Board of Orthopedic Surgery, Dr. Ho specializes in Orthopedic Oncology. Her main clinical interests and emphasis include diagnosing and treating both benign and malignant tumors involving both bone and soft tissue in children and adults.
Dr. Ho earned her undergraduate degree at Princeton University. She completed medical school at Georgetown University School of Medicine in Washington D.C. Dr. Ho then did a general surgery internship at the University of California San Francisco in San Francisco, California, and her residency in orthopedic surgery at Maimonides Medical Center in Brooklyn, New York. Following her residency, she completed a fellowship in orthopedic oncology at MD Anderson Cancer Center.
After completing her fellowship, she moved to Washington DC to become the first orthopaedic oncology surgeon for the Kaiser Permanente Mid-Atlantic region, diagnosing and treating patients of all ages with benign and malignant bone and soft tissue tumors throughout the Baltimore, Washington DC, and northern Virginia area. While working there, she established a multidisciplinary tumor board to discuss tumor patients and coordinate care with other providers.
Her clinical research interests include chemotherapy for soft tissue tumors, as well as refining surgical treatments and reconstruction options for both benign and malignant bone tumors. She is interested in developing more robust research collaborations with other centers to strengthen the data throughout the field of musculoskeletal tumors.
Dr. Ho is thrilled to return to her hometown of Houston to join the team at UT Health. She is a fellow of the American Academy of Orthopaedic Surgeons.
Education
Undergraduate Degree

Princeton University, Princeton, New Jersey

Masters Degree

Johns Hopkins University, Baltimore, Maryland

Medical Degree

Georgetown University School of Medicine, Washington, D.C

Internship

UCSF Department of Surgery, San Francisco, California

Residency

Orthopedic Surgery, Maimonides Medical Center, Brooklyn, New York

Fellowship

Orthopedic Oncology, MD Anderson Cancer Center, Houston, Texas
Areas of Interest
Clinical Interests
Pediatric & Adult benign and malignant musculoskeletal tumors of the extremities, pelvis, and shoulder girdle

Bone and soft tissue sarcomas

Management of metastatic disease

Bone graft reconstruction and endoprosthetic reconstruction
Publications
"Synovial Chondromatosis of the Upper Extremity." J Hand Surg Am. 2013 Apr;38(4):804-10. Epub
2013 Mar 6. PMID: 23474166
Ho YY, Choueka J
"Foot and Ankle Amputations: Lisfranc/Chopart." In Wiesel SW (ed.) Operative Techniques in Orthopaedic
Surgery. Lippincott Williams & Wilkins; 2010. pp. 2072-2092
Chou LB, Temple HT, Ho Y, and Malawer MM
"Foot and Ankle Amputations: Ray Resections." In Wiesel SW (ed.) Operative Techniques in Orthopaedic
Surgery. Lippincott Williams & Wilkins; 2010. pp. 2047-2052
Chou LB, Temple HT, Ho Y, and Malawer MM
"Tumors of the foot and ankle: experience with 153 cases." Foot Ankle Int. 2009 Sep;30(9):836-41
Chou LB, Ho YY, Malawer MM