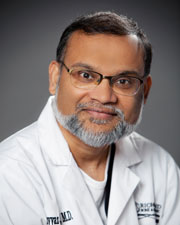 Assistant Professor, Department of Orthopedic Surgery
713.486.7000
713.452.4197
713-486-7000 Assistant

Biography
Dr. Fayyaz Ahmed is an Assistant Professor in the Department of Orthopedic Surgery at McGovern Medical School at The University of Texas Health Science Center at Houston (UTHealth).
Board certified in Rheumatology, Geriatrics, and Internal Medicine, Dr. Ahmed specializes in the treatment of Rheumatoid arthritis.
Dr. Ahmed received his medical degree from Dow College in Karachi Pakistan. He completed his residency at the Flushing Medical Center in Flushing, New York. He went on to complete a fellowship in Rheumatology at State University at Stony Brook in Stony Brook, New York, and an additional fellowship in Geriatrics at Tulane University Medical Center in New Orleans, Louisiana.
Dr. Ahmed is a member of the American College of Rheumatology.
Education
Medical School

Dow Medical College, Karachi, Pakistan

Residency

Internal Medicine Residency, Flushing Hospital Center, Flushing, New York

Fellowship

Rheumatology Fellowship, State University at Stony Brook, Stony Brook, New York

Fellowship

Geriatrics Fellowship, Tulane University Medical Center, New Orleans, Louisiana
Contact Information
Medical Assistant
Beatris Gamino
713.486.7000
713.452.4197
Research Information
Clinical trial of perfenidone for systemic Sclerosis. An open-randomized uncontrolled trial.
Participation in a phase III study comparing Etanercept with methoterxate in treatment of patients with early active Rheumatoid Arthritis.
Publications
Publication Information
Ahmed F. Aziz T. Kaufman L. Progressive Multifocal Leukoencephalopathy in a Patient with SLE. Journal of Rheumatology.
Ahmed S. Libman R. Wesson K. Ahmed F. Gaillain-Barre's syndrome- an unusual Presentation of West Nile Virus infection. Neurology.
Additional Information
Certifications
American Board of Internal Medicine-Re-certification, 2006
American Board of Geriatrics- Board certified, 2000
American College of Rheumatology- Board certified, 2006
American Board of Internal Medicine- Board certified, 1996
Professional Memberships
American College of Rheumatology