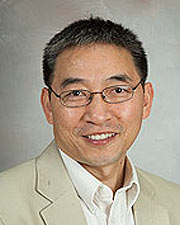 Professor, Department of Pathology and Laboratory Medicine
Director, Breast/GYN Pathology, Department of Pathology and Laboratory Medicine
Education
Fellowship

Cytopathology Fellow, Northwestern Memorial Hospital, Feinberg School of Medicine, Chicago, IL, 2007

Chief Resident

Anatomic and Clinical Pathology, John H Stroger Jr Hospital of Cook County, Chicago, IL, 2006

PhD

Pathobiology, Pennsylvania State University, 2000

Medical School

Beijing Medical University, Beijing, China, 1989

B.M.

Bejing Medical University (Peking University), 1989
Areas of Interests
Clinical Interests
Beast and GYN tumor pathology. Cytopathology especially on fine needle aspiration cytology.
---
Research Interests
Breast cancer stem cells, tumor immunity and epithelial mesenchymal transition. GYN cancer prognostic and diagnostic biomarkers.
Research Information
My laboratory is currently working on a Department of Defense funded project to study the breast cancer stem cells and the role of SIRT1 in breast cancer stem cells. We have been using breast cancer cell lines, xenograft mouse model and human breast samples to study the cancer stem cells. We also collaborate with medical oncologists, oncology surgeon, and basic scientists to study breast cancer tumor immunity.
We have other translational research projects related to breast and GYN cancers, and tissue microarray (TMA) blocks will be used to study the prognostic and diagnostic biomarkers.
Publications
Publication Information
Zhang S, Ivanovic M, Nemcek AA, DeFrias DVS, Lucas E, Nayar R. Thin core needle biopsy crush preparations in conjunction with fine needle aspiration for the evaluation of thyroid nodules: a complementary approach. Cancer. 114:512-518, 2008.
Zhang S*, Abreo F, Lowery-Nordberg M, Veillon DM, Cotelingam JD. The role of fluorescence in situ hybridization and polymerase chain reaction in the diagnosis and classification of lymphoproliferative disorders on fine-needle aspiration. Cancer. 118:105-112, 2010.
Zhang S*, Bao R, Bagby J, Abreo F. Fine Needle Aspiration of Salivary Glands: Five-year Experience from A Single Academic Center. Acta Cytologica 53:375-382, 2009.
Jafri SH, Glass J, Shi R, Zhang S, Prince M, Kleiner H. Thymoquinone and Cisplatin as a therapeutic combination in lung cancer: In Vivo and In Vitro. Journal of Experimental & Clinical Cancer Research. 29:87, 2010.
Zhang S*, DeFrias VSD, Alasadi R. Nayar R. Endoscopic ultrasound-guided fine-needle aspiration: Five year experience from an academic center in U.S. Cytopathology. 21:35-43, 2010.
Wang XI, Zhang S*, Abreo F, Thomas J. The role of routine immunohistochemistry for Helicobacter pylori in gastric biopsy. Annals of Diagnostic Pathology. 14:256-9, 2010.
Chidlow JH, Glawe JD, Pattillo CB, Pardue S, Zhang S, Kevil CG. VEGF-164 isoform specific regulation of T cell dependent experimental colitis in mice. Inflammatory Bowel Disease. 17:1501-12, 2011.
Boburn MA, Brueggemann S, Cheng B, Li XL, Mxuitenko YY, Orchard EA, Li BD, Stoff-Khalili MA, Zhang S, Mathis JM, Kleiner-Hancock HE. Establishment of a mammary carcinoma cell line from Syrian Hamsters treated with N-methyl-N-Nitrosourea. Cancer Letters. 312:82-90, 2011.
Zhang S, Thomas J, Thibodeaux J, Bhalodi A, Abreo F. Teenage cervical cytology screening in a high risk American population. CytoJournal. 8:9, 2011.
Zhang S*, Brandi K, Hospodar E, Thibodeaux J, Thomas J, Abreo F. The Value of duplicate slides on atypical squamous cells, cannot exclude high grade intraepithelial lesion (ASC-H). Diagnostic Cytopathology. 40:14-18, 2012.
Wang IX, J Thomas J, S. Zhang. Changing trends in Human Papillomavirus associated head-and-neck squamous cell carcinoma. Annals of Diagnostic Pathology. 16-7-12, 2012.
Collins G, Thomas J, Joshi N, Zhang S*. The diagnostic value of cell block as an adjunct to liquid-based bronchial washings cytology specimens in the diagnosis and subclassification of pulmonary neoplasms. Cancer. 12:134-141, 2012.
Zhang S, Gong Y. From cytomorphology to molecular pathology: maximizing the value of cytology of lymphoproliferative disorders and soft tissue tumors. American Journal of Clinical Pathology. 140:454-67, 2013.
Zhang S, Wang XI. SIRT1 is a useful marker for high-grade dysplasia and carcinoma in Barrett's esophagus. Annals of Clinical & Laboratory Science. 43:373-7, 2013.
Fan X, Brezski RJ, Deng H, Dhupkar PM, Shi Y, Gonzalez A, Zhang S, Rycyzyn M, Strohl WR, Jordan RE, Zhang N, An Z. A novel therapeutic strategy to rescue the immune effector function of proteolytically inactivated cancer therapeutic antibodies. Mol Cancer Ther 14(3):1-11, 2014.
French CA, Rahman S, Walsh EM, Kuhnle S, Grayson AR, Lemieux ME, Grunfeld N, Rubin BP, Antonescu CR, Zhang S, Venkatramani R, Dal Cin P, Howley PM. NSD3-NUT Fusion Oncoprotein in NUT Midline Carcinoma: Implications for a Novel Oncogenic Mechanism. Cancer Discovery. 4:928-41, 2014.
Zhang N, Deng H, Fan X, Gonzalez A, Zhang S, Brezski RJ, Choi BK, Rycyzyn M, Strohl W, Jordan R, An Z. Dysfuctional antibodies in tumor microenviroment associate with impaired anticancer immunity. Clinical Cancer Research 2015, Epub ahead print.
Additional Information
Certifications
ECFMG Permanent Certification
Diplomate of American Board of Pathology AP/CP (2006)
Diplomate of American Board of Pathology, Cytopathology (2007)
Awards
Dean's Teaching Excellence Award, 2014-2015, University of Texas Health Science Center in Houston, Houston, TX
Excellence in Teaching Anatomic Pathology, 2011-2015 (4 times), University of Texas Health Science Center at Houston