Meyers named Pediatrics Director of Advanced Care Providers
---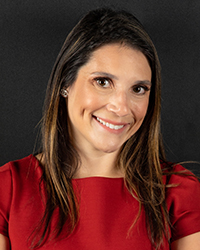 The McGovern Medical School Department of Pediatrics has named Priscilla Meyers, MSN, APRN, NNP-BC, as its director of Advanced Care Providers (ACP).
"I am honored to have been chosen to help support and lead the Advanced Care Providers for the department," Meyers said. "We do great work here at UTHealth, and I'm excited to have been given the opportunity to lead and serve them and be able to showcase the amazing work they do."
As director of ACP, Meyers will provide mentorship and strategic leadership to all advanced care providers in the Department of Pediatrics. Meyers also will be responsible for overall operations, staffing, planning, scheduling, budgeting, and quality management for department ACPs.
Meyers will work to solidify a structure for advanced care providers within the medical school and to create a space where ACPs can support each other and promote professional standards and professional practice.
"We recognize the importance and want to be able to provide mentorship and promote the interests of ACPs, as well as enhance our role, both academically and clinically, through department support and recognition," Meyers said.
Meyers joined McGovern Medical School in June 2013 after graduating from the UTMB School of Nursing with a master's of science in nursing. She became the clinical manager for the UT Physicians neonatal nurse practitioners in 2018 at the height of the NICU expansion into the community.
In 2019, Meyers was named Neonatal Nurse Practitioner Rising Star by the National Association of Neonatal Nurses for exemplifying passion for her work and making a large impact in a short time through exemplary practice, leadership, service, and education.
"I would like to thank Dr. Amir Khan for giving me the opportunity to lead the Neonatal Nurse Practitioners prior to this role and supporting my last-minute ideas," Meyers said. "I also would like to thank Ashley Willis for working tirelessly to help create the ACP website, Joan Hernandez for supporting me every step of the way and serving as a great example of what a leader should be, and Dr. Mary Aitken for listening and advocating for the ACPs by creating this role. Lastly, I'd like to thank my husband, two girls, and mom. I truly would not be in this position without their help and support."