Four faculty win UT STARs Awards
---
---
Congratulations to Dr. Anthony Flores recipient of the UT System Translational STARs Award!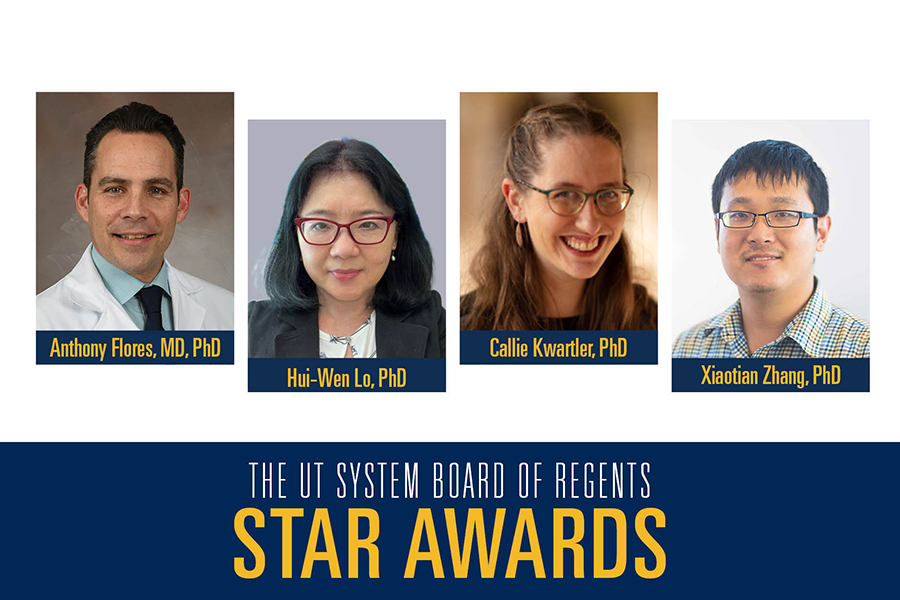 Four members of the McGovern Medical School Faculty, Anthony Flores, MD, PhD, Callie Kwartler, PhD, Hui-Wen Lo, PhD, and Xiaotian Zhang, PhD, have earned The University of Texas System's STARs Awards.
The UT System Board of Regents created the Faculty Science and Technology Acquisition and Retention (STARs) Program in 2004 to help UT institutions attract and retain outstanding faculty. Awards, which can be used to purchase equipment and renovate facilities, require institutional support and are available to support the recruitment and retention of tenure-track faculty members at any rank.
Anthony Flores, MD, PhD
Flores, associate professor in the Department of Pediatrics and chief of Pediatric Infectious Diseases, received $1,000,000 through the Translational Retention STARs Award, given for the recruitment or retention of nationally recognized leaders in translational and clinical sciences.
A nationally recognized infectious disease physician-scientist, Flores specializes in genomic epidemiology and bacterial pathogenesis. His research focuses on understanding the mechanisms by which bacterial pathogens infect humans and cause disease. Flores has developed and maintained a highly productive research program, and his research has been continuously funded by NIH centers such as NIAID and AHQR. He was elected as a fellow of the Pediatric Infectious Diseases Society in 2021.
Flores is a principal investigator on three independent awards from the NIH, and has received over $3.2 million since joining the Medical School in 2017. His work has been featured in over 60 peer-reviewed publications in high-impact infectious disease journals such as Clinical Infectious Diseases, Journal of Infectious Diseases, mBio, mSystems, and Infection and Immunity. More than half of Flores' publications have come since joining the Medical School.
Flores received his PhD in microbiology from the University of Rochester School of Medicine and Dentistry in 2004 before completing his medical degree program and a master of public health program there in 2006. He completed his residency in pediatrics in 2008 at the Accelerated Research Pathway and a fellowship in infectious diseases at Baylor College of Medicine and Texas Children's Hospital in 2012. Flores joined the McGovern Medical School faculty in 2017.
Callie Kwartler, PhD
Kwartler, assistant professor in the Department of Internal Medicine, received $250,000 through the UT System Rising STARs Award for the recruitment of promising faculty members who are recruited in a tenure track position at any academic level.
During her postdoctoral work, Kwartler studied mechanisms of pathogenesis for genetically triggered thoracic aortic aneurysms and dissections. Her work provided proof-of-principle for the concept of disease-contributing rare genetic variants that can cause vascular disease in combination with other environmental and genetic factors. Her work also contributed to the development of foundational hypotheses on the role of smooth muscle cell contractility in thoracic aortic disease and smooth muscle cell proliferation in vascular occlusive diseases.
Kwartler also studied the mechanisms of pediatric-onset cerebrovascular disease, identifying a completely novel role for smooth muscle α-actin in the nucleus and showed that loss of this specific nuclear function impairs the cell fate specification of smooth muscle cells. The paper for this research, currently in revision at Nature Cardiovascular Research, was chosen as a finalist for the Irvine H. Page Junior Faculty Research Award at the 2022 American Heart Association Vascular Discovery meeting.
Kwartler received her doctorate of philosophy in biomedical sciences (cell and regulatory biology) in 2013 from The University of Texas MD Anderson UTHealth Houston Graduate School of Biomedical Sciences. She completed postdoctoral research training in the Departments of Molecular Biology and Internal Medicine at UT Southwestern Medical Center from 2013-15 as well as in the Department of Internal Medicine at McGovern Medical School from 2016-21.
Hui-Wen Lo, PhD
Lo, professor, and founding director of the Metastatic Brain Tumor Research Program in the Department of Neurosurgery, received a $750,000 Faculty STARs Award to support equipment purchases and faculty renovation to establish a new program that addresses unmet medical needs of understanding the biology of metastatic brain tumors and identifying effective therapies with hard-to-treat brain metastases.
Lo's current research program is focused on elucidating the biology underlying cancer genesis and progression and using translation of bench knowledge to enable the development of novel tumor biomarkers and more effective therapies for intractable cancers. She investigates particular cancer types: metastatic breast cancer, breast cancer brain metastasis, and glioblastoma. These focuses largely stem from unmet needs to improve our limited understanding of these conditions and identify effective treatments for patients with these diseases.
Lo's laboratory has been continuously supported by the NIH, DoD, and several other private agencies and foundations since 2006, for a total of over $10 million in grant funding. During her eight-year tenure at Wake Forest School of Medicine, she successfully competed for five federal grants with more than $6 million of grant funding. She is currently the principal investigator of one NCI R01 and three DoD Breast Cancer Breakthrough Awards.
Lo received her doctorate of philosophy in biochemistry and molecular biology from UTHealth Houston in 2002. Her PhD dissertation project was focused on understanding the signaling pathways that regulate the human glutathione S-transferase P1 gene at the transcriptional and post-translational levels in glioblastoma. Lo also holds a master of arts in nutritional sciences from The University of Texas at Austin and a master of science in biomedical sciences from UTHealth Houston.
Xiaotian Zhang, PhD
Zhang, assistant professor in the Department of Biochemistry and Molecular Biology, received $250,000 through the UT System Rising STARs Award for the recruitment of promising faculty members who are recruited in a tenure track position at any academic level.
At McGovern Medical School, Zhang will work to develop an independent and well-funded research program concerning the role of 3D epigenome organization and gene expression. He has focused his research efforts on how the non-coding genome and epigenetic machinery (writers, readers, and erasers of epigenetic marks) fine-tune gene regulation in the context of normal and malignant hematopoiesis.
Zhang received a PhD in molecular and human genetics from Baylor College of Medicine for research showing that mutations in DNA methylation modifiers work in synergy in the development of leukemia. While a graduate student in the lab of Dr. Margaret Goodell, his work was selected for presentation at numerous national meetings, including the American Hematology Society (ASH), FASEB Hematologic Malignancies, and A Keystone Hematopoiesis meeting. In 2016, his abstract was selected Best Abstract in ASH 2016.
---