Salaries and Benefits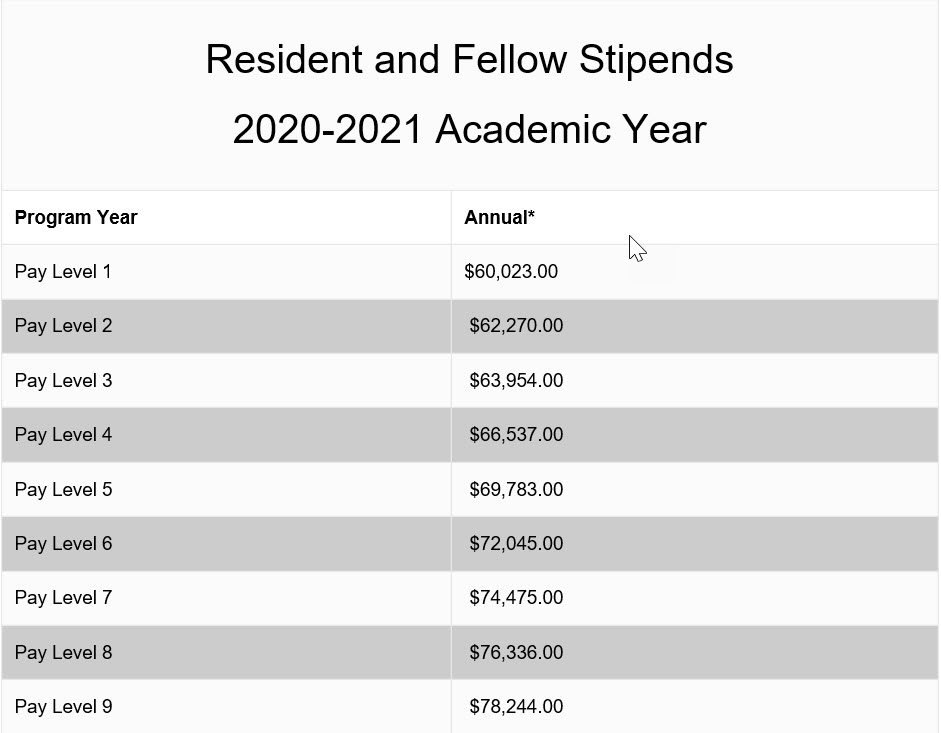 –Paid Leave
Vacation: 21 working days PGY 1 and above per contract year

Sick Leave: 12 working days per contract year
Rollover cap of 30 working days
Educational Leave: 7 working days per contract year per PGY level with Program Director approval
Funeral Leave: 3 days
Insurance Programs at No Cost to Resident
Comprehensive medical care plan through UT Select Plan/BCBS  http://www.bcbstx.com/ut
Dental Insurance at group rate
Vision Insurance at group rate
$40,000 basic life insurance
Disability insurance
$40,000 accidental death & dismemberment insurance
Professional Liability Insurance
Other Benefits
Dependent Medical, Dental & Vision Insurance available at group rates
Supplemental Disability Insurance
Paid and unpaid leaves of absence
Tax-deferred annuity plans
Uniforms & Badges at no cost – free laundry of lab coats
Paid membership in Harris County Medical Society and The Texas Medical Association
Dues paid by Department – Texas Pediatric Society, AAP
Resident OSCE (standardized patients)
State of the art skills lab
Pediatric Resident lounges at CMHH & LBJ Hospital
Remote access to electronic medical records
On call meal tickets
Subsidized Resident parking at UTPB ($60 monthly), free LBJ & MDA parking (while on core rotation)
Services and Support Groups
The University of Texas Health Science Center at Houston offers many services to assist you during your residency and/or fellowship training program. .
Family Work/Life Program: This program offers assistance in balancing a resident's work and personal lives through a variety of services.
Employee Assistance Program: The program offers services to help residents resolve problems in their personal lives that may affect performance in their programs. Refer to the EAP website for specific services available.
Recreation Center: The UTHSC-H Recreation Center offers a wide variety of quality facilities, equipment, and programs designed for health and fitness, as well as for fun and relaxation. Membership is open to all UT students, faculty, staff and families and affiliates, including Texas Medical Center institutions and UT Alumni.
Please refer to the UTH GME office for more information about resident benefits.