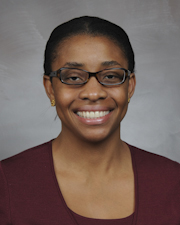 Chiamaka U. Aneji, MBBS, MPH
Associate Professor, Pediatrics
MMS-AME Member, McGovern Medical School "Academy of Master Educators"
Education
Graduate School

University of Nigeria, Nsukka, Nigeria, 1998

Pediatric Residency

University of Texas Medical Branch, Galveston, Texas, 2005-2007

Neonatal-Perinatal Medicine Fellowship

The University of Texas McGovern Medical School at Houston, Houston, TX 2008-2011
Areas of Interests
Clinical Interests
Medical Education
Neonatal Resuscitation
International Child Health
Publications
Publication Information
De jesus-rojas W, Mosquera RA, Samuels C, Aneji C, Khan A, Jon C, et al. The Effect of Comprehensive Medical Care on the Long-Term Outcomes of Children Discharged from the NICU with Tracheostomy. Open Respir Med J. 2018;12:39-49.
DOI: 10.2174/1874306401812010039
PMID: 30197702
---
Tsakiri S, Aneji C, Domonoske C, Mazur L, Benjamin DK, Wootton SH. Voriconazole Treatment for an Infant With Intractable Candida glabrata Meningitis. Pediatr Infect Dis J. 2018;37(10):999-1001.
DOI: 10.1097/INF.0000000000002073
PMID: 29677084
---
Aneji CU, Chapman JC, Tatum M. A Refresher Course Combined with Self-Directed Practice to Improve Neonatal Resuscitation Knowledge and Skills in United States Pediatric Residents: Randomized Pilot Study
Journal of Contemporary Medical Education. 2018;6(1):19-23
---
Aneji CU, Lopez S. Standardizing The Morbidity and Mortality Conference and Utilizing It as A Tool for Education and Quality Improvement; One Program's Experience.
International Journal of Medicine and Health Development.2017;22(2):156-159
---
Aneji CU, Chapman J, Tatum M.: An educational Intervention to enhance retention of knowledge and skills of Neonatal Resuscitation in PGY2 and 3 pediatric residents in one residency program. Journal of Investigative Medicine. 2016, 64(2):716-717
---
Prof Umeh Rich E and Aneji CU. Women and Development. Chapter 19: Women and the Medical Profession. Published by Nigerian Academy of Education 2016 Pg. 369-378.
ISBN: 978-37771-0-1-2
---
Aneji CN, Northrup H, Au KS. Deep sequencing study of the MTHFR gene to identify variants associated with myelomeningocele. Birth Defects Res Part A Clin Mol Teratol. 2012;94(2):84-90.
DOI: 10.1002/bdra.22884
PMCID: PMC3327553
PMID: 22241680
---
Umeh RE, Babalola OE, Okoye OI, Asana UE, Umeh CN, Braide E, Biritwum R, and Seketeli A. An Appraisal of the utility and effectiveness of computerized motion sensitivity screen tests (MSST) in rural onchocercal community survey. West African Journal of Medicine. 2010,29(6):412-416
PMID: 21465451
---
Umeh CN, Essien EJ, Ezedinachi EN, and Ross MW. Knowledge, Beliefs and Attitudes about HIV/AIDS related Issues, and the Sources of Knowledge among Health Care Professionals in Southern Nigeria. J R Soc Promot Health.2008 Sep;128(5):233-9
PMID: 18814404
Certifications
ECFMG, 2004
American Board of Pediatrics, General Pediatrics, 2007
American Board of Pediatrics, Neonatal-Perinatal Medicine, 2012
Neonatal Resuscitation Program, Hospital Based Instructor, 2011 – present
Helping Babies Breath, Master Trainer, 2012
Essential Care for Every Baby, Master Trainer, 2015
Helping Babies Survive, Master Trainer, 2015
Essential Care for Small Babies Master Trainer, 2016