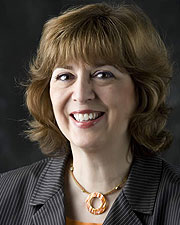 Deborah J. del Junco, Ph.D.
Areas of Interest
Research Interests
epidemiology methods, complex interactions among etiologic factors (e.g., gene-environment) in chronic disease, records linkage, meta-analysis, reproductive health, autoimmune disease, Rett syndrome
Publications
Publication Information
del Junco DJ, Luthra HS, Annegers JF, Worthington JW, and Kurland LT.  The familial aggregation of rheumatoid arthritis and its relationship to the HLA-DR4 association.  Am J Epidemiol 1984;119:813-29.
del Junco DJ, Annegers JF, Luthra HS, Coulam CB, and Kurland LT.  Do oral contraceptives prevent rheumatoid arthritis?  JAMA 1985;254:1938-41.
del Junco DJ.  The association of autoimmune conditions with recurrent intrauterine death.  Clin Obstet Gynecol 1986;29:959-75.
del Junco DJ, Annegers JF, Coulam CB, Luthra HS The relationship between rheumatoid arthritis and reproductive function.  Br J Rheumatol 1989;28 Suppl 1:33; discussion 42-5
Greenberg F, del Junco D, Weyland B, Faucett A, Schmidt D, Rose E, Alpert E.  The effect of gestational age on the detection rate of Down syndrome by maternal serum alpha fetoprotein screening.  Am J Obstet Gynecol 1991 165:1391-3.
del Junco DJ, Annegers JF.  Efficacy of immunotherapy  for unexplained recurrent spontaneous abortion:  The role of guidelines and meta analysis.  Am J Reprod Immunol. 1992 27:94-6.
Schultz RJ, Glaze DG, Motil KJ, Armstrong DD, del Junco DJ, Hubbard C, Percy AK.  Pattern of growth failure in Rett syndrome.  Am J Dis Child, 1993 147:633-37.
Percy AK, Glaze DG, Schultz RJ, Zoghbi HY, Williamson D, Frost JD, Jr., Jankovic JJ, del Junco D, Skender M, Waring S, Myer EC.  Rett syndrome:  Controlled study of an oral opiate antagonist, Naltrexone.  Ann Neurol 1994;35:464-70.
Kozinetz C, Skender M, MacNaughton N, del Junco D, Almes MJ, Schultz R, Glaze D, Percy A.  Population-based registries using multi-disciplinary reports:  A method for the study of pediatric neurologic disorders.  J Clin Epidemiol 1995;48:1069-76.
Skender ML, Goodrick GK, del Junco DJ, Foreyt JP, Reeves RS, Darnell L, Gotto AM.  Comparison of long-term weight loss trends in three behavioral treatments of obesity:  Diet only, exercise only, and the combination of diet and exercise.  J Am Dietetic Association 1996 96:342-6.
Ashton CM, del Junco DJ, Souchek J, Wray NP, Mansyur CL.  The association between the quality of inpatient care and early readmission:  A meta-analysis of the evidence.  Medical Care 1997 35:1044-1059.
Kozinetz C, Skender M, MacNaughton N, del Junco D, Yamamura Y.  Rett syndrome:  An analysis using Sartwell's incubation period model.  J Child Neurol 1997 12:361-364.
del Junco DJ More breast implant prose and cons.  Contractures and confounding: the controversy continues.  JAMA 1997 277:1643-1644.
Geraci JM, Ashton CM, Kuykendall, DH Johnson ML, Souchek J, del Junco D, Wray NP.  The association of quality of care and occurrence of in-hospital treatment-related complications. Medical Care 1999 37: 140-148.
Vernon SW, Lairson DR, del Junco DJ, Perz C, Chan W, Rakowski W, Bastian LA.  Early detection of breast cancer among women veterans:  A study to determine the effectiveness and efficiency of methods to improve compliance with mammography screening guidelines.  Oncology Economics 2000 1:32-37.
Garzon AM, Sweeney A, del Junco D, Albanese RA.  A case-control study of birth defects and cancer.  Organohalogen Compounds 2000 48:167-170.
del Junco D, Kadlubar F, Vernon S, Stancel G, Sweeney A, Wu X, Lang N, Schecter A, Garzon A, Wheeler T.  Detecting an association between prostate cancer occurrence and TCDD exposure in the U.S. Vietnam veteran population.  Organohalogen Compounds 2000 48:95-98.
Ho VT, Mirza NQ, del Junco D, Okamura T, Przepiorka D.  The effect of hematopoietic growth factors on the risk of graft-vs-host disease after allogeneic hematopoietic stem cell transplantation:  a meta analysis.  Bone Marrow Transplantation 2003 32:771-775.
Etheredge AJ, Christensen K, del Junco D, Murray JC, Mitchell LE.  Evaluation of two methods for assessing gene-environment interactions using data from the Danish case-control study of facial clefts.  Birth Defects Res A Clin Mol Teratol 2005 73(8):541-546.
Cooper SP, Burau KE, Frankowski R, Shipp EM, del Junco DJ, Whitworth R, Sweeney AM, MacNaughton N, Weller NF, Hanis CL.  A cohort study of injuries in migrant farm worker families in South Texas.  Ann Epidemiol 2006 16(4):313-320.
Cooper CJ, Cooper SP, del Junco DJ, Shipp EM, Whitworth R, Cooper SR.  Web-based data collection:  Detailed methods of a questionnaire and data gathering tool.  Epidemiol Perspect Innov 2006 Jan 4;3:1.
Rivera S, Vernon SW, Tiro JA, Coan S, del Junco D, Chan W, Coker A.  Test-retest reliability of self-reported mammography in women veterans.  Prev Med 2006 42(4):320-326.
Shipp EM, Cooper SP, del Junco DJ, Delclos GL, Burau KD, Tortolero SR.  Severe Back Pain among Farmworker High School Students from Starr County, Texas: Baseline Results. Ann Epidemiol 2007 17:132-41.
Shipp EM, Cooper SP, del Junco DJ, Bolin JN, Whitworth RE, Cooper CJ.  Pesticide safety training among farmworker adolescents from Starr County, Texas.  J Agric Saf Health. 2007 13:311-21.
del Junco DJ, Vernon SW, Coan SP, Tiro JA, Bastian LA, Savas LS, Perz CA, Lairson DR, Chan W, Warrick C, McQueen A, Rakowski W.  Promoting regular mammography screening: I. A systematic assessment of validity in a randomized trial.  JNCI 2008 100:333-346.
Vernon SW, del Junco DJ, Tiro JA, Coan SP, Perz CA, Bastian LA, Rakowski W, Chan W, Lairson DR, McQueen A, Fernandez ME, Warrick C, Halder A, DiClemente C.  Promoting regular mammography screening:  II.  Results from a randomized controlled trial in U.S. women veterans.  JNCI 2008 100:347-358.
Sweeny A, Symanksi E, del Junco D.  Commentary:  Rebuttal to "Comment on:  'The influence of age at exposure to PBBs on birth outcomes'" [Environ Res. 2007 Nov;105(3):370-9]. Environ Res 2008.  In press.
Savas LS, del Junco DJ, Vernon SW, Bastian LA Mortality Ascertainment of Women Veterans: A Comparison of Sources of Vital Status Information, 1979-2002.  Medical Care 2008.  Accepted.