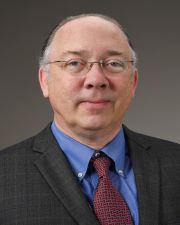 Jerry B. Gee II, M.D., FAAP
Staff Physician, Neonatal-Perinatal Medicine
Education
Graduate School

Tulane University School of Medicine

Pediatric Residency

Tulane University School of Medicine and Charity Hospital

Neonatal-Perinatal Medicine Fellowship

The University of Texas Southwester Medical Center and Parkland Hospital
Publications
Publication Information
Gee JB II, Corbett RJT, Perlman JM, Garcia D, Laptook AR. The effects of systemic magnesium sulfate infusion on brain magnesium concentrations and energy state during hypoxia-ischemia in newborn swine. Pediatric Research. 2004 Jan;55(1):93-100.
DOI: 10.1203/01.PDR.0000099771.39629.E5
PMID: 14561783
---
Gee JB II, Corbett RJ, Perlman JM, Laptook AR. Hypermagnesemia does not increase brain intracellular magnesium in newborn swine. Pediatr Neurol. 2001 Oct;25(4):304-8.
PMID: 11704399
---
Gee, J., Corbett, R., Perlman, J. et al. Age-Dependent Differences in the Relationship Between Plasma and Brain Extracellular Fluid Concentrations of Magnesium after MgSO4 Infusions in Miniswine. Pediatr Res 46, 281–286 (1999). https://doi.org/10.1203/00006450-199909000-00006
---
Corbett R, Laptook A, Gee J, Garcia D, Silmon S, and Tollefsbol G. Age-related differences in the effect of dichloroacetate on postischemic lactate and acid clearance measured in vivo using magnetic resonance spectroscopy and microdialysis. Journal of Neurochemistry 1998; 71:1205-14.
PMID: 9721746
---
Perlman JM, Risser R, and Gee J. Pregnancy-induced hypertension and reduced intraventricular hemorrhage in preterm infants. Pediatric Neurology 1997; 17:29-33.
PMID: 9308972
---
Corbett R, Gee J and Laptook A. Calculation of intracellular cerebral [Mg2+] during hypoxic ischemia by in vivo 31P NMR. Neuro Report 1996; 8:287-291.
PMID: 9051797
---
Certifications
American Board of Pediatrics, General Pediatrics, 1995
American Board of Pediatrics, Neonatal-Perinatal Medicine, 1999