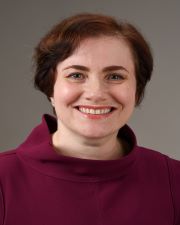 Associate Professor, Pediatrics
Education
Graduate School

State Medical Academy, Russia, 1991

Residency

Saint Petersburg State Pediatric University, Russia, 1992
State University of New York , Stony Brook University Hospital, New York, 2000
Physician Quality and Safety Academy, The University of Texas McGovern Medical School at Houston, Texas, 2010
Areas of Interest
Clinical Interests
Developmental care
Breastfeeding
Neonatal feeding disorders
Injury prevention
Quality improvement
Publications
Publication Information
Gerges A, Gelfer P, Kennedy K. Randomized trial of earlier versus later oral feeding in very premature infants. J Perinatol. 2018;38(6):687-692. doi:10.1038/s41372-018-0058-2
Gelfer P, McCarthy A, Spruill C. Infant Driven Feeding for Preterm Infants: Learning Though Experience. Newborn and Infant Nursing Reviews. June 2015.
Gelfer P, Tatum M. Sudden infant death syndrome. J Pediatr Health Care. 2014;28(5):470-474. doi:10.1016/j.pedhc.2014.04.007
Gelfer P (2014) Nurses' Role in Parental Education on Sudden Infant Death Syndrome Risk Reducing Strategies. Ann Nurs Pract 1(1): 1004
Gelfer P. Developmental Dysplasia of the Hip. Nonsystematic review. First Consult, January 2013
Gelfer P, Cameron R, Masters K, Kennedy KA. Integrating "Back to Sleep" recommendations into neonatal ICU practice. Pediatrics. 2013;131(4):e1264-e1270. doi:10.1542/peds.2012-1857
Gelfer P, Kennedy KA. Developmental dysplasia of the hip. J Pediatr Health Care. 2008;22(5):318-322. doi:10.1016/j.pedhc.2008.05.005
Chandran L, Gelfer P. Breastfeeding: the essential principles. Pediatr Rev. 2006;27(11):409-417.
Certifications
American Board of Pediatrics, General Pediatrics, 2000