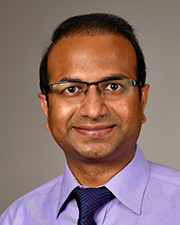 Staff Physician, Neonatal-Perinatal Medicine
Education
Pediatric Residency

Brookdale University Hospital and Medical Center

Neonatal-Perinatal Medicine Fellowship

McGovern Medical School at The University of Texas Health Science Center at Houston (UTHealth)
Publications
Publication Information
Buddhe S, Dhuper S, Kim R, Weichbrod L, Mahdi E, Shah N, Kona S, Sokal M. NT-proBNP Levels Improve the Ability of Predicting a Hemodynamically Significant Patent Ductus Arteriosus in Very Low-Birth-Weight Infants. Journal of clinical neonatology. 2012; 1(2):82-6.
PMCID: PMC3743145
PubMed PMID: 24027696
---
Kirpalani H, Millar D, Lemyre B, Yoder BA, Chiu A, Roberts RS. A Trial Comparing Noninvasive Ventilation Strategies in Preterm Infants N Engl J Med. 2013; 369(7):611-620.
(Sub investigator, Brookdale Hospital Medical Center, Brooklyn, NY)
PubMed PMID: 23944299 
---
ElHassan NO, Tang X, Gossett J, Kona S, Zakaria D, Prodhan P. Necrotizing Enterocolitis in Infants with Hypoplastic Left Heart Syndrome Following Stage 1 Palliation or Heart Transplant Pediatr Cardiol. 2018; 39(4):774-785.
DOI: 10.1007/s00246-018-1820-0
PubMed PMID: 29392349 
---
Certifications
American Board of Pediatrics, General Pediatrics, 2011
American Board of Pediatrics, Neonatal-Perinatal Medicine, 2016