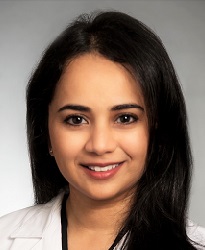 Vidhya Annavajjhala, M.D.
Assistant Professor , Pediatric Cardiology
Education
Medical School

Texas Tech University Health Sciences Center School of Medicine

Pediatric Residency

Weill Cornell New York Presbyterian Hospital

Pediatric Cardiology Fellowship

Texas Children's Hospital, Baylor College of Medicine

Advanced Non-Invasive Imaging and Clinical Research Fellowship

Stanford University School of Medicine
Areas of Interest
Clinical Interests
Advanced cardiac imaging (including fetal, transthoracic and transesophageal imaging)
Echocardiography quality improvement,
Single Ventricle Interstage monitoring program
---
Research Interests
Research interests are currently focused on assessment of cardiac function using non-invasive imaging. 
Publications
Publication Information
Annavajjhala V, Valente AM, Lopez L, Sachdeva R, Glickstein JS, Natarajan SS, Buddhe S, Altmann K, Soriano BD, Colquitt J, Altman CA, Asaki N, Sakarovitch C, Tacy TA, Geva T, Selamet Tierney ES. Echocardiographic surveillance in children after tetralogy of Fallot repair: Adherence to guidelines? In press Accepted Manuscript. DOI: https://doi.org/10.1016/j.ijcard.2019.09.075
 Annavajjhala V, Punn R, Tacy TA, Hanley FL, McElhinney DB. Serial assessment of postoperative ventricular mechanics in young children with tetralogy of Fallot: Comparison of  transannular patch and valve‐sparing repair.           Congenital Heart Disease. 2019;00:1–9. https://doi.org/10.1111/chd.12772
Hudgins LC, Annavajjhala V, Kovanlikaya A, Frank MD, Solomon A, Parker TS, Cooper RS. Non-invasive assessment of endothelial function in children with obesity and lipid disorders. Cardiol Young. 2016; 26(3):532-8.
Mulla ZD, Annavajjhala V, Gonzalez-Sanchez JL, Simon MR, Nuwayhid BS. Group B streptococcal colonization and the risk of pre-eclampsia. Epidemiology and Infection. 2013;141(5):1089-98.
Paul JD, Powell TM, Thompson M, Benjamin M, Rodrigo M, Carlow A, Annavajjhala V, Shiva S, Dejam A, Gladwin MT, McCoy JP, Zalos G, Press B, Murphy M, Hill JM, Csako G, Waclawiw MA, Cannon RO, III. Endothelial progenitor cell mobilization and increased intravascular nitric oxide in patients undergoing cardiac rehabilitation. J Cardiopulm Rehabil Prev. 2007; 27(2):65- 73.
Shiva S, Wang X, Ringwood LA, Xu X, Yuditskaya S, Annavajjhala V, Miyajima H, Hogg N, Harris ZL, Gladwin MT. Ceruloplasmin is a NO oxidase and nitrite synthase that determines endocrine NO homeostasis. Nature Chemical Biology. 2006; 2(9):486-93.