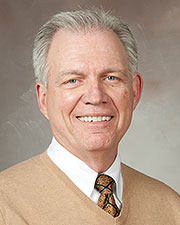 W. Daniel Williamson, M.D.
Professor
Developmental Pediatrician, Dan L. Duncan Children's Neurodevelopmental Clinic
Education
Fellowship

Baylor College of Medicine, Houston, Texas
Areas of Interest
Clinical Interests
Dr. Williamson diagnoses and manages children with a broad spectrum of developmental disabilities (e.g., attention-deficit/hyperactivity disorder, autism, pervasive developmental disorders, learning problems, etc.).
Professional Membership
A board certified pediatrician, Dr. Williamson is a fellow of the American Academy of Pediatrics and a member of the Society for Developmental and Behavioral Pediatrics and the Society for Pediatric Research. He has served on local, state, and national committees to address the needs of children with disabilities. He is past president of the Houston Branch of the International Dyslexia Association and the United Cerebral Palsy of Greater Houston. He is a past member of the Boards of Directors of the Neuhaus Education Center and the International Dyslexia Association.