Pediatric Multiple Sclerosis and Neuroimmunology Clinic
At our Multiple Sclerosis and Neuroimmunology clinic, we care for children, adolescents, and adults with inflammatory and immune-mediated diseases of the central nervous system (brain and spinal cord), including: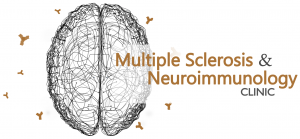 Multiple sclerosis
Autoimmune or demyelinating diseases, such as neuromyelitis optica (NMOSD), acute disseminated encephalomyelitis (ADEM) transverse myelitis, anti-MOG antibody-associated disease, optic neuritis, antibody-mediated autoimmune encephalitis, PANDAS/PANS (Pediatric Autoimmune Neuropsychiatric Disorders Associated with Streptococcal Infections), leukodystrophies, and others.
Inflammatory diseases including vasculitis, neurosarcoidosis, and Behçet's disease.
The needs of pediatric patients are unique from a biologic, developmental, demographic, and psychosocial aspect. To provide our patients with the most comprehensive care possible, our team is comprised of adult and pediatric neurologists, psychiatrists, neuropsychologists, neuroradiologists, neuro-ophthalmologists, rehabilitative medicine, and movement disorder specialists. Together, we aim to provide education and support to children, teens, and their families with multiple sclerosis and related diseases, and to ensure a smooth transition between pediatric and adult care.
---
Multiple Sclerosis and Neuroimmunology Specialist
---