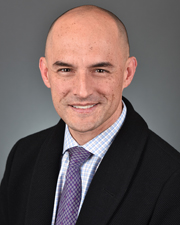 Professor and Chief, Division of Pediatric & Congenital Heart Surgery
Biography
Dr. Jorge D. Salazar was born in San Francisco, California.  Dr. Salazar is Professor and Chief of Pediatric Cardiovascular Surgery at the McGovern Medical School at The University of Texas Health Science Center at Houston.  He is board certified in Thoracic and Congenital Cardiac Surgery.  After receiving a BS in Mathematical Sciences at the University of Washington in Seattle, Dr. Salazar received his MD at the School of Medicine at the University of Washington.  Dr. Salazar trained in General Surgery and Cardiothoracic Surgery at the Johns Hopkins Hospital in Baltimore. He subsequently spent a year of sub-specialized training in Pediatric Cardiac Surgery at the University of California in San Francisco before joining the faculty at the University of Texas Health Sciences Center in San Antonio as Director and became Chief of Congenital Heart Surgery.  Dr. Salazar was then recruited to Texas Children's Hospital and Baylor College of Medicine. He was then recruited to be the Chief of the Division of Pediatric and Congenital Heart Surgery at the University of Mississippi Medical Center in Jackson.  In 2013 he became the Division Chief for both adult and pediatric cardiac surgery.  Dr. Salazar was then recruited to Boston Children's Hospital and Harvard Medical School, were he specialized in complex congenital heart surgery and the development of international heart programs.
Dr. Salazar's area of clinical expertise is to offer solutions for the most challenging heart defects.  He specializes in the care of:
Hypoplastic Left Heart Syndrome (HLHS) and other Complex Single Ventricle Patients
Heterotaxy Syndrome patients
Aortic Arch Reconstruction and Coarctation Repairs without Hypothermic Circulatory Arrest
Biventricular Conversions and Repairs for Single Ventricle Patients
Pulmonary Vein Stenosis (PVS) and Total Anomalous Pulmonary Venous Connections (TAPVC)
Neonatal complete repairs of:

Tetralogy of Fallot (TOF)
Ventricular Septal Defects (VSD) including Muscular and Apical VSDs
Pulmonary Atresia
Double Outlet Right Ventricle (DORV) including Taussig Bing
MAPCAS
Truncus Arteriosus
Transposition of the Great Arteries

Anomalous Coronary Arteries including ALCAPA, ARCAPA and AAOCA
Shone's, Williams, and DiGeorge patients
Valve-sparing Aortic root surgery
Aortic Surgery for Connective Tissue Disorders such as Marfan, Loey-Dietz, and Ehler Danlos
Sub Aortic Membrane and stenosis with aortic valve repair and resuscitation
Mitral valve, Tricuspid valve, and Aortic valve repairs
Minimally Invasive Cardiac Surgery
Adult Congenital Heart Surgery
Heart Transplantation and Ventricular Assistance Devices (VAD)
National and International Referrals
Dr. Salazar receives referrals and second-opinion requests from patients and families all over the world seeking solutions for the most challenging congenital heart problems.  He is committed to finding hope for all patients.
Care Philosophy
I love what I do because my patients, especially children, have so much potential. They are our future and our most worthwhile investment. Being a parent myself, I always strive to deliver the very best outcome to my patients as I would for my own family, with the least amount of risk. I feel very fortunate that my work enables me to help the children and adults I care for overcome even the most challenging heart problems, and thus achieve their full potential.
Education
BS

Mathematical Sciences, University of Washington, Seattle, WA

MD

Doctor of Medicine - University of Washington, Seattle, WA

Residency

General Surgery - Johns Hopkins Hospital, Baltimore, MD

Residency

Cardiothoracic Surgery - Johns Hopkins Hospital, Baltimore, MD

Fellowship

Pediatric Cardiothoracic Surgery - University of California, San Francisco School of Medicine, San Francisco, CA
Areas of Interests
Research Interests
Dr. Salazar is an accomplished investigator involved in numerous clinical trials evaluating novel therapies to treat the most complex congenital heart defects. In particular, Dr. Salazar specializes in protecting the brain during congenital heart repairs.
Publications