Research spotlights caregivers of bipolar patients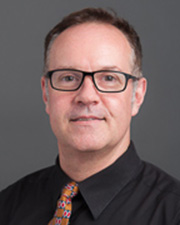 University of Texas Health Science Center at Houston (UTHealth) researchers are studying how strategies, such as group psychoeducation or mobile health technology, can help improve the well-being of those who care for bipolar patients.
Bipolar disorder causes unusual shifts in mood, energy, activity levels, and the ability to carry out everyday tasks, according to the National Institute of Mental Health. While bipolar disorder greatly impacts the patient's life, it also affects friends and relatives who often serve as nonprofessional or caregivers on a daily basis.
Rebecca Casarez, Ph.D., R.N., and Thomas Meyer, Ph.D., have teamed up to organize focus groups to learn how living with someone with bipolar disorder affects one's overall well-being, health, immune status, and stress levels.
"There is information and literature that shows that spouses and other relatives of those with bipolar disorder are often stressed," said Meyer, an associate professor in the Department of Psychiatry and Behavioral Sciences and director of the Psychological Interventions and Research Laboratory for Mood Spectrum Disorders. "We want to learn from them what they need to help them in their role as informal caregivers."
Participants will join a focus group to help develop mobile technology for the spouses of patients with bipolar disorder and will be able to take part in psychoeducational sessions to learn how to handle the stresses specific to their role as a caregiver.
"I have always liked helping individuals with a chronic illness live with their illness on a day-to-day basis," said Casarez, a clinical associate professor in the Department of Family Health at UTHealth School of Nursing. "Part of helping individuals live with a chronic illness is to include their families in the overall plan of care."
Within the psychoeducation groups, relatives will learn more about bipolar disorder and have the opportunity to share their experiences. Caregivers will be asked about using mobile technology and the types of situations for which they would most likely seek help.
"Their input and feedback will determine the content and structure of the application, which will help make this truly beneficial for them," Casarez said.
The interactive app, which will include videos and animation, will be accessible 24 hours a day.
"Spouses and partners have multiple, and often conflicting roles, because they are not formal caregivers finding themselves in such a role. They are primarily the intimate partner," said Meyer. "This has a very high potential for causing stress and conflict for the couple."
The psychoeducation study is funded by the Dean's Research Award from UTHealth School of Nursing, and the mobile technology focus group study is funded by Sigma Theta Tau International Honor Society of Nursing, Zeta Pi Chapter.
For more information or to learn how to be a participant, please contact Casarez and Meyer at 713-486-2515.
-Angie Meus, Office of Public Affairs