Soares named Chancellor's Health Fellow
---
---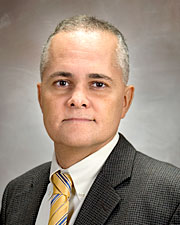 Jair C. Soares, MD, PhD, chair of McGovern Medical School Department of Psychiatry and Behavioral Sciences and Pat R. Rutherford Chair in Psychiatry, has been named a 2016 Chancellor's Health Fellow for The University of Texas System Office of Health Affairs.
Soares was chosen to help develop a behavioral health component of the UT System Population Health Strategic Plan. In the past year, Soares has contributed to this goal in numerous ways, including working to increase collaboration among psychiatry leaders across Texas.
"I appreciate this opportunity to work with UT System's Office of Health Affairs to develop a strategic plan that focuses on the wide range of behavioral health issues that affect individuals and families across the state," said Soares, executive director for UTHealth Harris County Psychiatric Center (HCPC). "This plan will explore innovative approaches to behavioral health care that support improved patient outcomes by adapting levels of care to each individual's progress."
The UT System Office of Health Affairs established the Chancellor's Health Fellowship program in 2004 to recognize high-impact innovative work at individual health institutions that are aligned with the overarching mission of the UT System and have potential for broad societal impact on health care, education, and research. The work of previous Chancellor's Health Fellows has focused on patient care quality, as well as public health and health care ethics, among other topics.
"I look forward to continuing to collaborate with Dr. Soares as we develop a behavioral health strategic plan for The University of Texas System," said David Lakey, MD, associate vice chancellor for population health at UT System. "As chair of the Department of Psychiatry and executive director of HCPC, Dr. Soares brings a deep understanding of the behavioral health challenges Texans face and offers new insight into the possibilities of integrative care. His vision for creating a continuum of care offers practical solutions for addressing current challenges in order to implement practical improvements in behavioral health that create lasting change in people's lives."
Soares will participate in quarterly UT Collaboration on Population Health Innovation and Improvement meetings, as well as collaborate and meet with leaders at numerous health institutions to identify priorities, needs and resources related to mental health and substance abuse.
Soares, who joined UTHealth in 2009, directs of the UT Center of Excellence on Mood Disorders, which focuses on the search for causes and development of new treatments for severe mental illnesses. He oversees research specializing in refractory depression, clinical psychopharmacology, and interventions research. A board-certified psychiatrist, he also serves as chief of psychiatry services at Memorial Hermann-Texas Medical Center and Harris Health Lyndon B. Johnson Hospital.
-LaVonne Carlson, HCPC
---