Researchers recruiting children with autism
---
---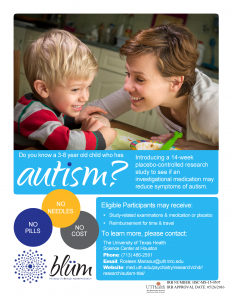 Researchers at McGovern Medical School are conducting a 14-week, placebo-controlled research study to assess the safety and effectiveness of an investigational medication (CM-AT) to treat the symptoms of autism in children ages 3 to 8.
CM-AT is an enzyme formulation children take with food to help them digest proteins. When protein is digested, it creates substances necessary for proper brain development and function. The drug has no taste, comes in a powder form, and is sprinkled on food three times a day. The study involves no needles and no pills.
"With proper protein digestion, children with autism have the potential to improve their access to the substances necessary for proper brain development and function," said Deborah A. Pearson, Ph.D., professor in the Department of Psychiatry and Behavioral Sciences, and principal investigator of the Texas site for the Blüm Study. McGovern Medical School is the only Texas site for a Phase III clinical trial.
There are growing observations children with autism experience gastrointestinal symptoms. Recently, children with autism tended to have low levels of an enzyme needed for protein digestion. When the human body does not adequately break down proteins, it may lack essential amino acids, which are critical building blocks for the production of neurotransmitters. This can affect overall brain development and function.
Autism is a growing epidemic with recent estimates that one in every 68 children is diagnosed with this disorder. Unfortunately, researchers have not yet identified a definitive cause of the disorder or a medication to treat the symptoms. Pearson's center is dedicated to researching the causes, characteristics and treatments of autism.
For more information about enrollment in the research study, call 713-486-2591.
-Deborah Mann Lake, Office of Public Affairs
---