Heads Receives $50,000 Grant from Robert Wood Johnson Foundation
---
---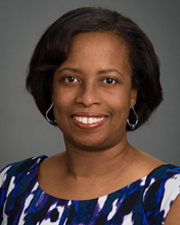 The Robert Wood Johnson Foundation (RWJF), the nation's leading philanthropy on health and health care, has awarded Angela M. Heads, Ph.D., Assistant Professor in in the UTHealth McGovern Medical School's, Department of Psychiatry and Behavioral Sciences a 12-month grant through the New Connections program. Dr. Heads is among a select group of early career researchers to receive one of the grants from New Connections. The grant will allow Dr. Heads to examine the developmental trajectory from adolescent substance use (SU) to emerging adult SU; explore adverse childhood experiences (ACEs) as potential predictors of development of substance use disorders (SUDs); and examine parental involvement, school engagement and future expectations as potential protective factors for later substance use.
New Connections is a national program designed to introduce new scholars to RWJF and expand the diversity of perspectives that inform the foundation's programming. New Connections seeks early career scholars from backgrounds that are historically disadvantaged or underrepresented in research disciplines, such as individuals from ethnic or racial groups historically underrepresented in research disciplines, first-generation college graduates and people from lower-income communities.
"We are so excited to welcome Angela into the eleventh cohort of New Connections grantees. The program connects first-time grantees to the Foundation, and the new perspectives they bring are essential to solving the critical, complex issues affecting our nation's health," says Catherine Malone, DBA, MBA, Program Officer at RWJF.
"This cohort joins the larger New Connections network of more than 900 scholars—a network that provides opportunities for scholarly support and collaboration for academics from underrepresented groups," says Malone.
"I am extremely proud to be among the researchers honored with this prestigious grant," says Heads "This award will connect me to a network of established experts in research and evaluation related to health and health care, while providing me with an opportunity to conduct a research study that has far-reaching implications for examining risk and protective factors for substance use disorders through a socio-ecocultural lens."
More information about New Connections is available at http://rwjf-newconnections.org.
About UTHealth McGovern Medical School
McGovern Medical School is the sixth largest medical school in the United States. Located in the heart of the Texas Medical Center, McGovern Medical School is one of the largest and most diverse medical schools in the country.
About the Robert Wood Johnson Foundation
For more than 40 years the Robert Wood Johnson Foundation has worked to improve health and health care. We are working with others to build a national Culture of Health enabling everyone in America to live longer, healthier lives. For more information, visit www.rwjf.org. Follow the Foundation on Twitter or on Facebook.
---