Herbert L. and Margaret W. DuPont Master Clinical Teaching Award: J. Chase Findley, MD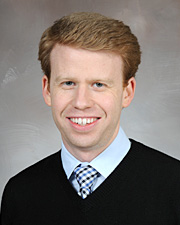 J. Chase Findley, MD, assistant professor and director of medical student education in the Department of Psychiatry & Behavioral Sciences, is the recipient of the 2018 Herbert L. and Margaret W. DuPont Master Clinical Teaching Award.
Established in 2001 and made possible by a gift from the DuPonts, the award recognizes and preserves the essence and quality of the master clinical teacher, reflecting McGovern Medical School's top priority of quality clinical medical education.
Findley didn't anticipate that a call from Dr. Patricia Butler, vice dean for educational programs and professor in the Department of Psychiatry & Behavioral Sciences, would be to inform him about receiving the award.
"I was completely surprised and even more honored when I looked at the list of the prior recipients of this award," Findley said. "Many of the prior awardees are faculty members that I work with now and have provided me a lot of the opportunities and responsibilities that have enabled me to be considered for this award."
Findley's approach to teaching is one of emphasizing constant improvement and said he enjoys working with medical students when they begin feeling like real doctors and experiencing the excitement – and anxiety – that comes with it. Although he sees many medical students struggling with self-doubt or perfectionism, Findley said he aims to show students that being perfect isn't the goal in the practice of medicine.
"It's to do the best job we're capable of for our patients at that time, and to be a better physician today than we were yesterday," Findley said. "I try to help my students understand that there is an infinite continuum of improvement and that there is always potential for learning and progress no matter how experienced or educated we are."
Findley completed medical school and psychiatry residency at The University of Texas Health Science Center at San Antonio before arriving at McGovern Medical School in 2013. Prior to his time in the UTHealth system, Findley graduated from Amarillo College in 2003 with an associate of science degree in biology, followed by a bachelor of arts in interdisciplinary studies from the University of Texas at Dallas in 2005. His clinical interest is in the treatment of patients with severe mental illnesses, including mood disorders and schizophrenia, in an inpatient hospital setting. Findley is the psychiatry faculty adviser for the Student Interest Group in Neurology and Psychiatry and is an attending physician at the UTHealth Harris County Psychiatric Center.
Findley said he was thankful to the DuPont family for their funding of this award and thankful for McGovern Medical School prioritizing student and resident education and promoting opportunities for clinical educators. He also thanked his wife, Tina Findley, MD, assistant professor in the Department of Pediatrics, who first encouraged him to explore educational activities in medical school. He also thanked Butler for her continued support.
"Dr. Butler has put a lot of confidence in me and provided many opportunities at McGovern that I never would have expected to receive so early in my career," Findley said.
Previous recipients of the DuPont award are Don Molony, MD, 2017; Erin Furr Stimming, MD, 2016; Gabriel Aisenberg, MD, 2015; Mark Hormann, MD, 2014; Mark Farnie, MD, 2013; John Foringer, MD, 2012;  Pedro Mancias, MD, 2011; Phil Johnson, MD, 2010; Francisco Fuentes, MD, 2009; Cheves Smythe, MD, 2008; Eugene Toy, MD, 2007; John Sparks, MD, 2006; Victor Lavis, MD, 2005; Philip Orlander, MD, 2004; Ian Butler, MD, 2003; Patrick Brosnan, MD, 2002; and Frank Arnett, MD, 2001.