TMS and Treatment-Resistant Depression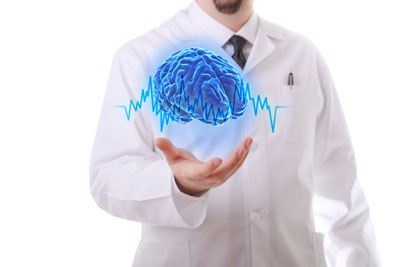 Written by: Bobby Nix, MD
The Department of Psychiatry and Behavioral Sciences continues to be on the forefront of revolutionary therapies for treatment-resistant depression. We offer Transcranial Magnetic Stimulation (TMS) to patients suffering from depression and whose symptoms have not improved adequately with antidepressant medications and psychotherapy. In addition to treating depression, TMS is also approved by the Food and Drug Administration (FDA) for the treatment of migraines and obsessive-compulsive disorder (OCD).
A non-invasive procedure, TMS does not require anesthesia and does not cause side effects often associated with medications such as weight gain, sexual dysfunction, nausea, dry mouth, and sedation. The most common side effects are mild to moderate headache and/or scalp discomfort, which typically occur less frequently after the first few sessions.
TMS involves an electromagnetic coil that is positioned on the head, directly over the area of the brain to be stimulated, usually the left of the right prefrontal cortex. This coil generates a rapidly pulsating magnetic field, which influences the activity of neurons and pathways situated directly under the coil, as well as other brain structures connected to them. Repeated sessions of brain stimulation, over time, can trigger changes in the brain's electrochemical activity and help relieve the symptoms of depression.
When this treatment first became available, sessions lasted approximately 37 minutes. With advancements, treatment time has been cut down to just 19 minutes. A new technique, recently cleared by the FDA, called intermittent theta burst stimulation (iTBS), also known as "Express TMS," now reduces each session to only three minutes. iTBS is just as as safe and effective for treating depression as conventional TMS — only much faster. Patients are able to receive the treatments they need, with decreased appointment times so they can return to their families, jobs, and lives.
For more information on TMS or to schedule an appointment, please call 713-486-2700.
---
Bobby Nix, MD, is an associate professor and vice chair for Clinical Affairs in the Department of Psychiatry and Behavioral Sciences. He also serves as the Director of UT Physicians Behavioral Health Outpatient Services. Nix is one of the leading providers at the UT Physicians Outpatient Psychiatry Clinic, treating a wide range of mental health conditions such as addiction, anxiety/OCD, bipolar disorder, depression, and binge eating disorders.